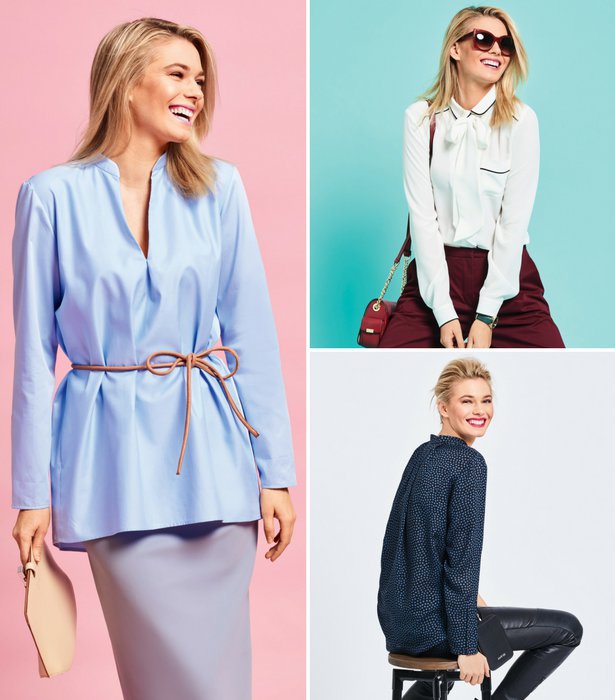 ShareThis
Five patterns, ten looks: A fashion focus on blouses from the 06/2017 issue of BurdaStyle magazine. Includes serious business blouse options through to stylish party essentials!

It is hard to imagine that this is the same pattern! The lightweight cotton boho print adds a youthful vibrance to this blouse and lends a free-spirited look.



This white business blouse that is not quite the usual basic white business blouse. Sharp black piping outlines at the collar, cuffs, shoulders and patch pocket. The neck bow is optional.



The eyelet fabric lends this blouse some form, while the tapered V-neckline and peplum add a girlish and vintage character. This is an especially great look for petite women. A piqué blazer and a midi skirt make this look one for the office.



At first glance, the 70s style blouse seems quite uncomplicated. Then, at closer inspection, you notice the delicate ruffled collar and the thin tying bands. Wear it with the leather skirt featuring decorative stitching to complete the retro look.



A modest blouse that gets the details just right. The deep V-neckline is a feminine touch and the on-point bell sleeves are popular right now. A pleat in back adds extra swing to this blouse. A relaxed style choice when worn with these bermuda shorts.



Hmmmm…Blouses aren't rock 'n' roll worthy? We think yes they can be! This clean style with the banded collar, back pleat and sleeve bands that are universally decorated with a wild mini star print gets styled perfectly with a pair of leather trousers and derby boots.



This blouse gets a playful variant in a whimsical cat print while keeping the proper Peter Pan collar, cuffs and pocket. Black leather and a waist cincher (a DIY accessory that you can make here) are the finishing touches.



Are cuffs, button plackets and darts required for business-wear? We give the classic office blouse an update. This one is equally as serious, though with its relaxed cut and neckline it has a wonderfully fresh look.



When sewn with a crisp white cotton fabric, the extras pop on this blouse. The sleeves are a relaxed cut – that is, however, exacting to still be able to be worn easily with a blazer. Fashionistas choose the zestful yellow paperbag waisted trousers (#111C from 6/2015).



When sewn with a fun printed crêpe, this blouse gets a softer and more care-free look. The sheer version is also a super layer to wear over colourful coordinating slip dresses.


Get all these blouse in the discounted pattern collection bundle here!