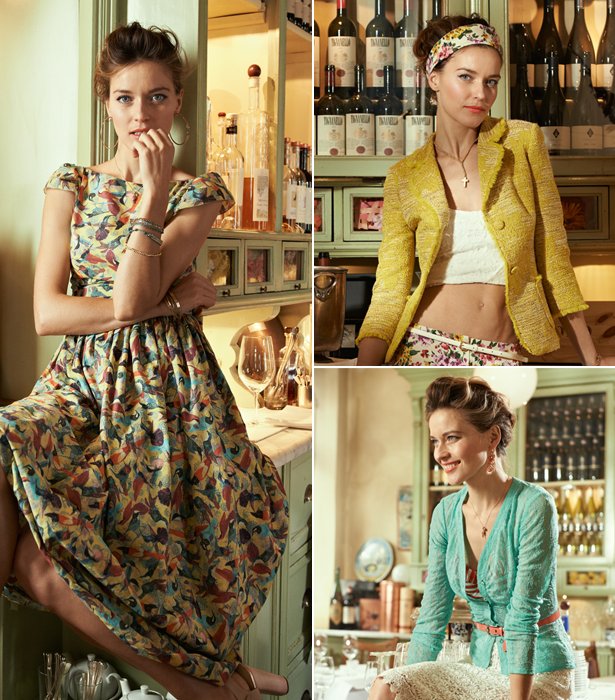 ShareThis
Freshly picked floral prints are springing up in this latest collection from burda style magazine's March 2013 issue. Bright florals are bursting on dresses, skirts, jackets and more! The styles are in a 50s' look – a fashionable homage to romance and womanliness.
This Halterneck Dress with its gathered bustier bodice and full, swinging bell skirt is reminiscent of film stars of the 50s'. And it's still the perfect dream dress for today's women who want to flaunt their femininity.
This Lace Shirt is just fabulous! The see-through cotton lace fabric alone is gorgeous. The style is so simple that even beginners can make it. We love it worn with this bright Floral Pencil Skirt. For everyday wear, this over-the-knee-length pencil skirt is perfect. It has a classic walking slit with under lap at the back.
Pure romance! This Floaty Dress with puff sleeves and gathering at the front is ideal for a date. It prettily shows a little cleavage and accents the waist. Simply lovely.
Lace from head to toe and still great for everyday wear! This Lace Cardigan has a V-neck, narrow sleeves and replaces a traditional knitted cardigan. Here it's combined with a bra and skinny belt, so fashion-forward! It's looks great paired with this lovely little Lace Skirt. This lace skirt uses the scalloped edge of the lace as the hem edge. It has a lining so it's not see-through.
Here we have the Open Back Dress. Total femininity. Ankle-length dress with fitted bodice, layered skirt and short gathered sleeves. It's respectably high cut at the front but the back plunges alluringly down to the waist.
This is the life! The Lace Jacket with floral pattern is just so sweet and even gives jeans a feminine, classy look. There is lovely gathering down the button band.
This is the Ribbon Dress. Flower designs don't always have to be printed on fabric. Here they look fabulous woven into the fabric! And for an especially classy touch there's a sewn-on petersham ribbon to give the dress some edge.
This classic Jacket is pepped up by the special boucle fabric with a woven-in flower pattern – and by the fringed edges and covered buttons. It looks so sharp worn with these Pencil Trousers. These narrow trousers of flowery gabardine don't have a waistband. Darts on the front and the back fit them beautifully to the figure.
Happy Sewing!