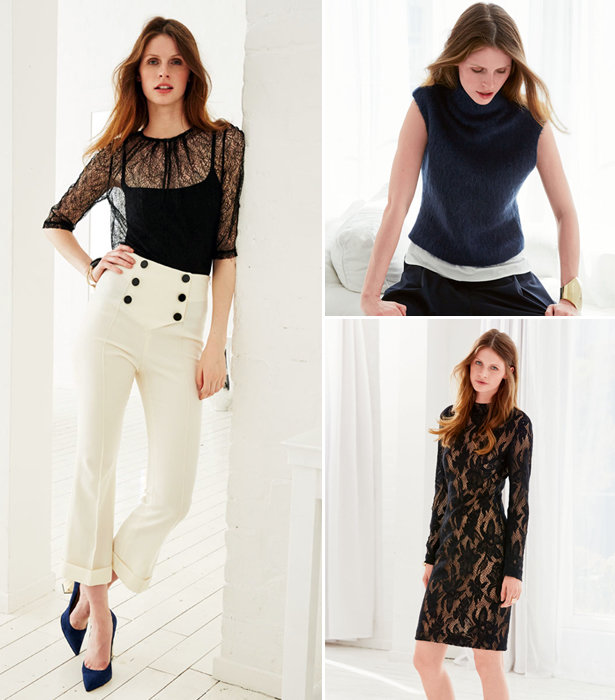 ShareThis
This collection from the November 2015 issue of BurdaStyle magazine features chic monochromatic looks for the modern gal. The wide lapel coat, bustier dress and sleeveless turtleneck are just a few that are on our sewing short list.
This dress has organza ribbons that gather the turtleneck collar, which makes it look nearly royal. The organza lays over a layer of satin, which makes the dress light and airy.
This tunic has lots of unique details that take a simple top to the next level. The sleeves are tied at the shoulders and then fall loosely while the neck drapes forming a cowl effect. It's a long top that should be worn with pants or tucked into a skirt.
This trendy jacket features very large lapels and has a loose, boxy fit. This jacket is made with a contrasting color on the hems and front lapel. Wear it with jeans for a cool-girl casual look.
This beautiful long sleeve mini dress has a high-neck and slim fit. It's made using a transparent fabric and lined with a nude fabric. It has front and back darts for a perfect fit and closes with a zipper at the shoulder.
This sleeveless turtleneck sweater shell is actually a 2-in-1 piece. Under the fluffy mohair knit is a white panel top. It is made with small snaps and can be unbuttoned. Easy if you want to quickly change your look and for washing.
This tunic is made to be worn with a skirt or pants as it has high slits on each side seam. The sleeve hems are gathered and tied with a bow for a sweet and feminine touch while the neckline is round with a small slit fastened by a button and loop.
These extra-high-waisted trousers are perfect when worn with a tucked-in blouse. The pants are cropped and cuffed just above the ankles and they close with a side seam zipper. The best part are the decorative buttons on the front bib that make them unmistakable sailor pants.
This lovely feminine skirt has a simple yet interesting cut. The top portion of the skirt is fitted and narrow while the bottom of the skirt extends into a bell shape with movement. What makes it even more unusual is the v-shaped darts in the front and back of the skirt.
This open jacket features a prominent shawl collar and two-seam sleeves. It can be made in a variety of lengths and fabrics for all seasons.
This feminine midi dress has a bustier bodice and thin straps. Fabric is gathered at the waist for a voluminous effect and the hem falls at calf-length.
Happy Sewing!