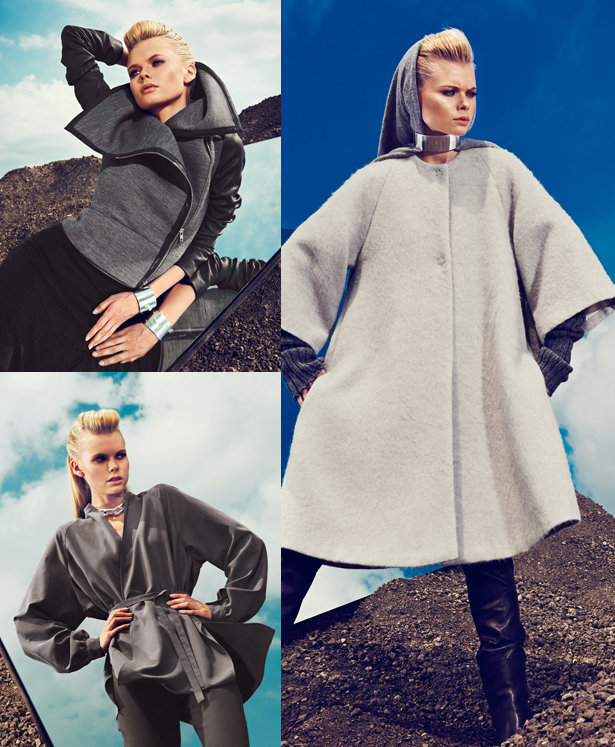 ShareThis
Brace yourself for winter's big chill with these minimalist designs. Coats, jackets, and separates in steely grey and white are crisp and cool. These patterns are from the November 2013 issue of Burda Style magazine.
An unusual collar, leather trim, and asymmetrical zip front combine for maximum style in this statement Moto Jacket. This piece makes any basic outfit memorable, all you need are jeans and a white tee.
This design includes patterns for a sleeveless jersey dress and long sleeved shrug. Layer up for a relaxed weekend outfit. This ensemble is a great topper for leggings or textured tights.
Add some glamour to your winter wardrobe with a cuddly faux Fur Shrug. This fun accessory will keep your shoulders toasty warm.
Slits at the side and a criss cross front give the Flyaway Blouse lots of movement. This is a casual top that looks best with slim trousers and skirts.
An unusual silhouette can turn any gloomy winter sidewalk into your runway. Pair the unique Crossover Pants with a simple sweater and pumps.
Sometimes a chic and simple coat is all you need to face a chilly morning. This minimal design can be pared with any style and accessories, and has hidden pockets for your hands.
Steal his style with this essential suit jacket. This single button style with slash pockets can dress up skinny slacks or jeans.
The eye-catching Bell Coat definitely makes a statement, and the volume will keep you super warm. This swingy style is great for high fashion types, and it can go over any outfit with ease. Top off the simple crew neck with a scarf.
You'll be ready to face a grey morning in these sharp designs. A touch of faux fur, an interesting shape, or a tough moto jacket can perk up cold days. Plus, these patterns are a nice change from the usual peacoats and scarves for winter.
Happy sewing!