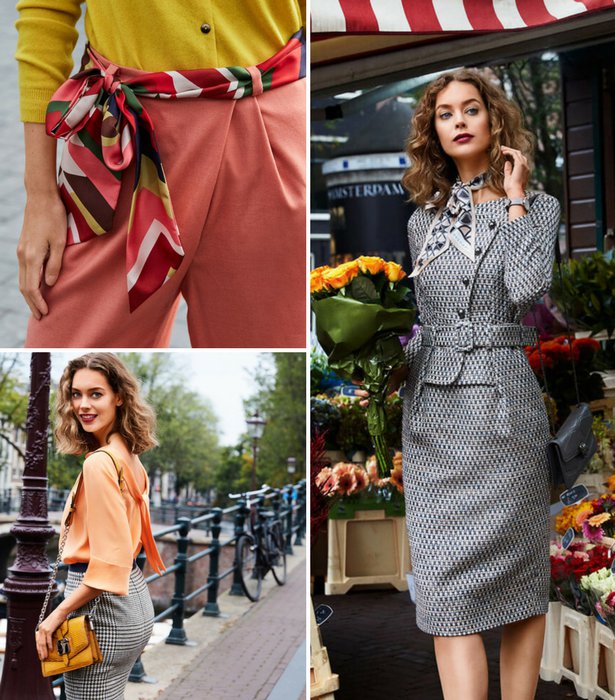 ShareThis
These retro looks from the 02/2018 issue of BurdaStyle magazine include a modern twist to revive the glamour vibe – with inspirational couture details and luxurious fabrics.

Overcut sleeves with matching covered buttons and piping along the waistline panel are special accents that draw attention so you can look and feel great in this blouse as you enjoy the first warmer days of the season.



The streamlined cut of this shirt dress is ideal for large prints. Specific details transition it into a league of its own: Pocket flaps in front, a box pleat in back and a tying belt accessory add some sporty flair while the slim lapel collar smoothes and lengthens the visual lines.



This blouse with the detachable bow at the neck and patch pockets is a touch of grande dame and a pinch of cool girl. The graphic printed silk fabric adds to the relaxed elegance.



Repeat looks are assured – first, second and third – thanks to the fantastic attention to detail. The slim-fit cut of the dress is designed to have the impression of a couture two-piece suit. A belt with a matching covered buckle that slides across dart tucks in back and an asymmetric closure in front add to the dreamy hourglass silhouette.



Subtle is yesteryear – pepped up outfits worn with these trousers take your look to the next level. The classic closure is replaced with an asymmetric slit and the unexpectedly wide hem bands combine beautifully for a vibrant splash to every look.



When a wedding, a theater event or an important business meeting are on the calendar…this style with the narrow shawl collar, pleat details and integrated waist belt panel is the perfect choice – couture, made by you!



This style with pleats in front and a wrapped neckline band that beautifully shapes is a vintage nod to the blouses worn by the film divas of the 1940s. A loosely knotting strip of fabric decorates the back. The neck details and the sleeve bands showcase the shiny side of the fine silk satin.



A fantastic look on its own or with the jacket as shown here. The narrowly cut skirt with the high-waist includes a classic walking slit in back.


Want to sew all these styles? Make ALL of them at a discount with this pattern collection bundle.