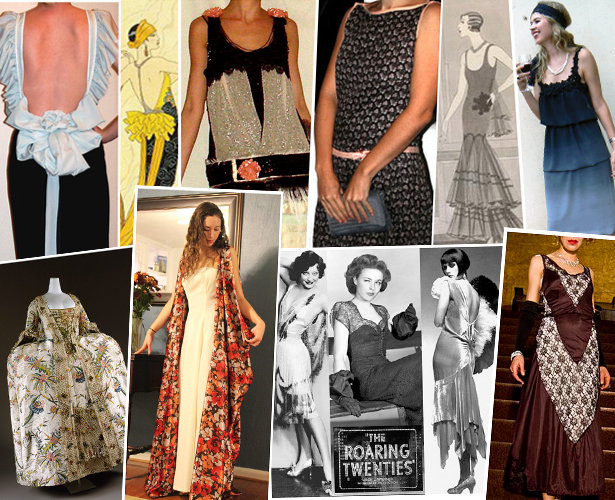 ShareThis
We here at BurdaStyle were quite impressed not only by the sheer volume of diverse and high quality submissions received (over 150 from six different continents), but also with the level of enthusiasm and styling that went into each project. It was great seeing members get so creative and inspired, both from using vintage patterns and drafting original designs for a modern take on classic silhouettes. On that note, we'd like to highlight some party looks throughout the decades.
Inspiration for our earlier eras ranged from the rich history of France in the 1700s to Hollywood glamour of the 1920s – a transition from structured, domed hoops to flapper dresses. In the 1700s, the sack-back gown (robe à la française) was the staple wardrobe for French women, similar to sabinaholtby-1's inspiration from a painted silk gown at the Metropolitan Museum of Art. Beneath the paniers and corset, the skirt is draped in bold floral silk, similar to the print used in our Virginia-based member's cowled side panels. abiah88 of Massachusetts was inspired by the marriage of art deco and art nouveau when crafting her elegant "1912 party dress," which features a draped neckline with beaded strands and a daring backless look.

Though flappers, also known as garçonnes, were infamous for what was perceived as outlandish behaviors at the time, the 1920s remain one of the most distinct eras in fashion where women came out of their shells and became more liberal post-war. Members such as ralene from Pretoria, South Africa, luaxea from Marseille, France, and loyl8 from Mesa, Arizona were inspired by the flapper look: knee-skimming dresses with dropped waistlines, sleeveless tops, and cloche hats.



Probably one of our most cited inspiration time periods, the 1950s had members around the globe – from Čakovec, Croatia to South Bend, Indiana – enraptured in a sewing frenzy! What would the 50s be without small shoulders, fitted waists, voluminous skirts, pastel colors, and the hourglass shape? Transport back in time with mixtlii's "Marlène in the 50s," inspired by a vintage embroidered cotton dress from her grandmother. Our lovely member from Montpellier, France reports that she will be wearing this classic floor length piece to her prom. She even created a flowered belt and organza stole to compliment this exquisite look.
vintagegal's "50s party frock" conjures up images of corsages and Back to the Future's Enchantment Under the Sea dance. Inspired by pastel confections of the era, her selection of dreamy seafoam green chiffon, tulle, and satin fabrics were all spot on and makes us want to go to the dancetaria! Meanwhile, over in the United Kingdom, ladyshape from Edinburgh pairs a Vivien of Holloway petticoat with a playful rockabilly chic red polka dot dress. This "1950s dream dress" is truly a dream, with beautiful movement and a flattering neckline, center front ruching and halter straps. What great examples of modest hems balanced by a variety of feminine bodice treatments so characteristic of 50s fashion!



Enter the 1980s into the world of oversized shoulder pads and power dressing, the New Romantics, bright colored pumps, dancewear, cropped leather jackets, and the lingerie as outerwear look popularized by Madonna's "Like a Virgin" days – the latter seen in nutmeg1's "Glitter & Lace" ensemble. magdamagda from Romania drew inspiration from Princess Diana puff sleeves in her "Black Mambo Mamba" look, a take on the little black dress in a floral black silk infused with a bit of androgyny. The details are pretty amazing: double buttons placed asymmetrically off to the side of both center front and center back and a pleated wrap-bubble-tulip skirt all in one!
Once again, a job well done! We would like to thank all of our participating members who put in long hours of hard work into making this one of our best contests thus far!