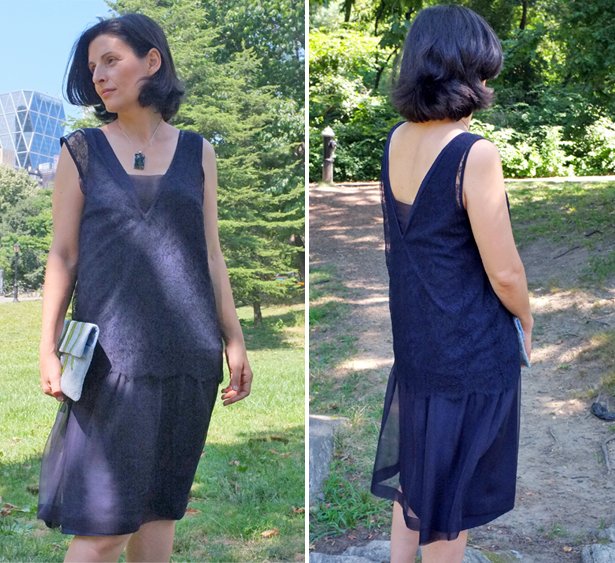 ShareThis
This is it – the perfect theater or evening dress I was lacking in my wardrobe. Breezy and luxuriously soft, the dress is extremely light and comfortable. It is going to get a lot of wear this summer!
The June challenge: Make a couture version of the flapper-style layered lace dress from the June 2012 issue of burda style magazine. The dress is layered with a lace top, which can be worn separately.




The couture mentor: Susan Khalje, founder of the Couture Sewing School, author of Bridal Couture, and contributing editor to Threads magazine. For each project, Susan shares her tips related to fabric selection and couture engineering and construction.




Lining and Seam Finishes
Unlike the linen curved panel dress I made for the May challenge, this dress had no lining. If you remember from my planning post, I chose silk crepe-de-chine fashion fabric and charmeuse underlining for the underdress, and lining didn't seem to have any advantage in this case. "I think the crepe-de-Chine and charmeuse would be enough," Susan recommended, "unless for some reason you want things to be heavier, in which case you could always use the matte side of a heavy charmeuse instead of crepe-de-Chine, but I think that would be too much. It's a light dress."

The absence of lining required seam finishing on the underdress, and the only bulk-free solution was hand overcasting. It may seem like a lot of work, but it is the best way to avoid bulk.




I used to be anxious about hand overcastting – stitches pointed to all possible directions, the whole process took too long; but then I learned that I was placing the stitches too close to each other. There is no ready formula for the distance – it all depends on fabric quality. On this dress I went for slightly less than ¼" apart. It's pretty loose, but if you think that crepe-de-Chine hardly frays (that's the nature of crepe) – ¼" distance is quite enough. There is, of course, a layer of silk charmeuse as well, but it anchored to and hidden under crepe-de-Chine once seams are hand overcast and pressed open.

Stays
The next thing to take care of was the neckline and the armholes. Stays were necessary for both, Susan warned me, otherwise they would continue to stretch. A stay, which is essentially a strip of fabric or a tape, is used to stabilize seams and garment edges to prevent them from stretching or distortion.

I used bias stays made from silk organza cut on true bias (45º). Organza bias stays provide good support to lightweight fabrics without adding bulk.




Once cut (two strips on the bottom), stays need to be steamed and stretched while pressing to remove all the stretch. The strip becomes very narrow, losing almost 2/3 of its original width. It is then attached along the seamline using tiny running stitches very close to the stitching line in the seam allowance.




Alternatively, I could have used silk organza selvage for the neckline only, but because of the flexibility of the bias cut, I settled for the bias stay. If you want to learn more about stays and available options, read a brief overview I wrote this month on my blog.

Facings
Another feature that I haven't used in my previous BurdaStyle projects was bias facing. Bias facings are great to finish any curved edges, such as armholes or scooped necklines. I used chiffon strips cut on true bias, approximately 1" wide. Facing edges are turned under on both sides and sewn to the armhole opening using fell stitches.




Deep hem on chiffon
Finally, I wanted to talk about the chiffon skirt hem. There are several choices for the hem on sheers, such as narrow machine hem, hand-rolled hem, or a double (or deep) hem. burda style magazine recommends double hem for this style, but I was not sure if I wanted a hand-rolled hem instead. Susan convinced me that the deep hem is the way to go:

"I like the idea of giving the skirt some swing, some weight, some integrity. Sometimes, with chiffon cut that way (with an absolutely straight, on-grain hem), I like a deep hem, doubled on itself (so that the first fold goes all the way to the second fold) – and the hem is held in place with a slip stitch. It gives kind of a nice swing to the skirt – it adds weight, but it keeps the movement. I think it's better than a hand-rolled hem or even a narrow machine hem – it's got more presence to it. And seeing those extra layers of chiffon in the hem allowance folds isn't a bad thing – it's really rather pretty, I think."




That's it, readers! I haven't talked about some finishing details that I covered in my post on the linen dress last month. Rather, as promised I tried to talk about new techniques used in couture sewing. I hope you could discover something new again. Please comment and ask questions. I won't be blogging about the July 2012 issue, even though I really love many pieces from it – it's holiday time and I will be back on for the August challenge.

Marina von Koenig documents her couture learning experience on her blog Frabjous Couture.