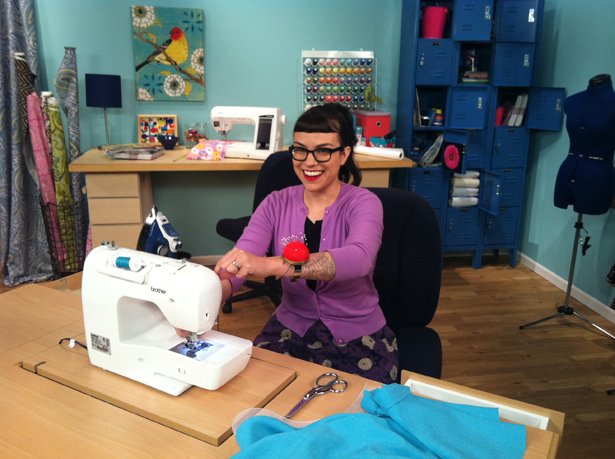 ShareThis
Hello, fellow BurdaStyle members! I'm super excited to be here today talking about my experience filming for the new TV show It's Sew Easy. I can't tell you how honored I was to be chosen for the spot, especially with so many amazing entries. I think I only squealed a little when I found out I was chosen. (Okay, I squealed a lot. A LOT.)
To prepare for the filming, I got to chat with the lovely ladies at BurdaStyle about what kind of project would make for a good ten-minute segment. I suggested the Linda skirt, with a fun added bonus technique: a horsehair braid hem that makes the full skirt stand out sassily. I love retro fashion (and blog about it all the time), so it was a natural project for me.
I got a list of guidelines about what to wear (no red, black, or white?!) and how to do my nails (natural!). I put aside my what-to-wear anxieties to begin the task of prepping for the segment. I made about 5 Linda skirts in the course of a week! The funny thing is, the more I made, the more I enjoyed making them. It got kind of Zen, you know what I mean? I ended up making one in a purple Japanese mum print that I eventually decided to wear on the show. I also made a fabulous (if I do say so myself) version in an emerald green hammered wool and silk blend that I originally bought for an evening gown.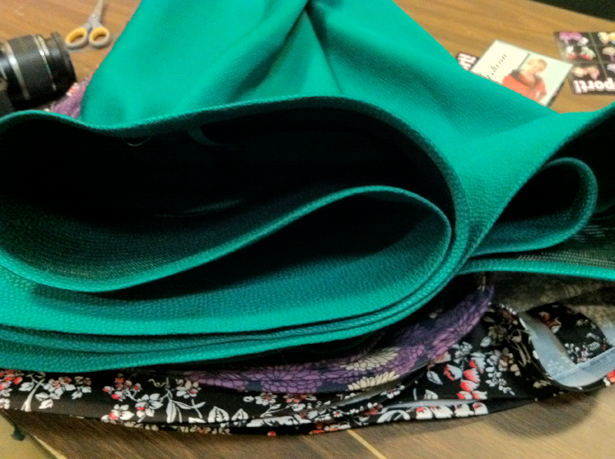 Linda skirts with horsehair braid hem.
The week of my filming arrived! I traveled to Cleveland, Ohio, and met BurdaStyle's Carol Cho there. It must be said, Carol is awesome. She should be a professional showbiz manager or something. She took me out to awesome meals, made a fuss over my skirts (I thought she was going to steal the emerald green one), helped me prep, and calmed my nerves.
We got to spend a day just hanging out at the studio, getting a feel for the process. There were lots of other amazing women there filming segments and I got to watch them and learn the ropes. In a panic, I realized I needed to completely re-haul my approach and pare my entire presentation down. Ten minutes goes by quickly! It all worked out in the end, happily.

In the green room. It's really green!
The day of the filming (after a nervous, sleepless night, it must be confessed), I went to the studio early to have my makeup done. I have to say, this was a highlight for me. So glamorous! The makeup artist worked with my look, giving me minimal eye makeup and my signature red lips.

Getting my mic and earpiece set up.
When it was time to go on set for my filming, I thought I might keel over from nervousness. Luckily, there were a lot of people helping me: Carol, the producer, Kathie Stull, and the amazing crew who told me I was better than Lady Gaga. (Thanks, guys.) I got through my ten minutes with only one minor stumble. The crazy thing was that you have to wear an earpiece so the producer can give you notes and count down your minutes left. No pressure or anything! At one point, she said "Don't forget to show the piece of fabric." Readers, I choked. Piece of fabric?! I was surrounded by those. Luckily, it wasn't a big deal and they helped me start up again easily.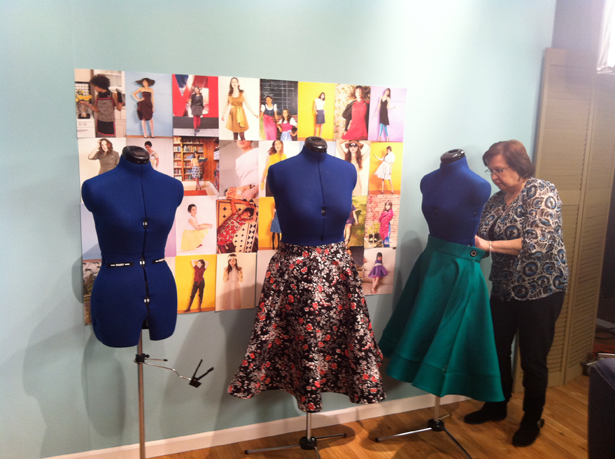 My skirts on display. Those are all BurdaStyle photos on the wall!
Before I knew it, I'd finished my presentation. Sweet relief! I had a blast and I feel proud of how I did, thanks to all the help I had.
The show will air this summer and I can't wait to tell you more about it as it gets closer. A big thanks to BurdaStyle for this opportunity. What an amazing experience!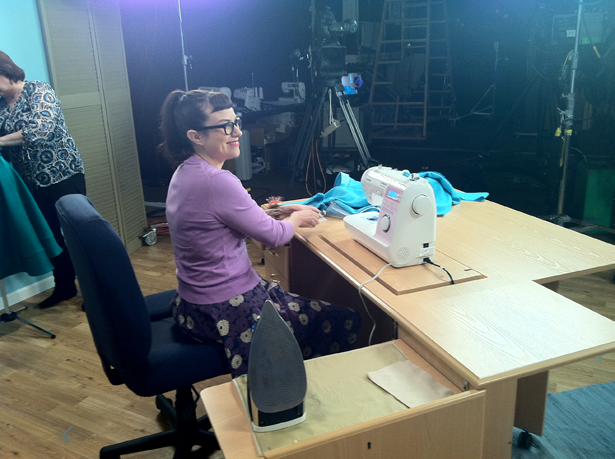 ~Gretchen
Gretchen Hirsch loves vintage fashion. She's the author of the popular blog Gertie's New Blog for Better Sewing and is writing a sewing book to be released in fall 2012 from STC Craft/Melanie Falick Books. She lives in Queens with her husband and two cats.