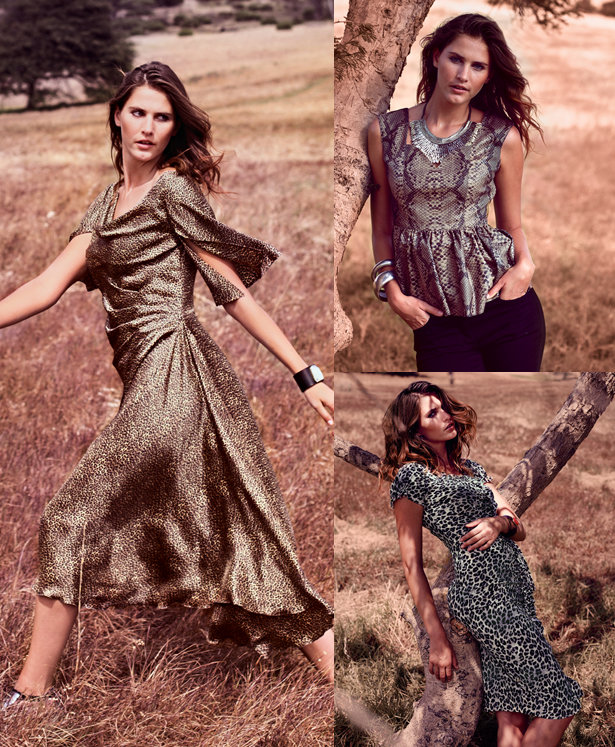 ShareThis
Animal and reptile prints have savage beauty in mini skirts, a peplum top, and four new dresses. This collection is from the July 2014 issue of Burda Style magazine. Go wild!
Off the shoulder dresses are so romantic and flattering. You can wear the Tiered Off the Shoulder Dress with spaghetti straps to keep it in place or tuck them in for a strapless look. Leopard print makes it more wild than sweet.
Go on the prowl in this hip hugging Ruched Jersey Skirt. It's a slinky, stretchy piece to wear out with your girlfriends.
Stretch jersey skims the body to the knee in this slinky animal print dress. The real focal point is the shawl collar, which splits and flutters all the way down to the hem. A high neckline at the back balances the V neck and scarf.
Get a little 80s and a lot of style in this snakeskin Wrap Mini Skirt with a wide hip yoke and wrapped front. This skirt turns any tank or tee into a party ready outfit!
The Godet Dress with Split Sleeves is all about movement, with flared sleeves and a sweeping skirt. It's ready for a night of dancing in leopard print and a pretty tea length.
Snakeskin gives this peplum top over-the-top sex appeal. It accentuates your figure with a sweetheart neckline and peplum that hits at the natural waist. Flaunt that hourglass silhouette.
Details are placed just slightly askew to give this ruffle dress a fun new look. An asymmetrical V neck leads into ruffles down the length and a tiny leg slit. This foxy leopard print dress is finished with gathered puff sleeves.
This collection shows your wild side without compromising style. See how a leopard print dress or snakeskin mini skirt can heat up your next night out.
Happy sewing!