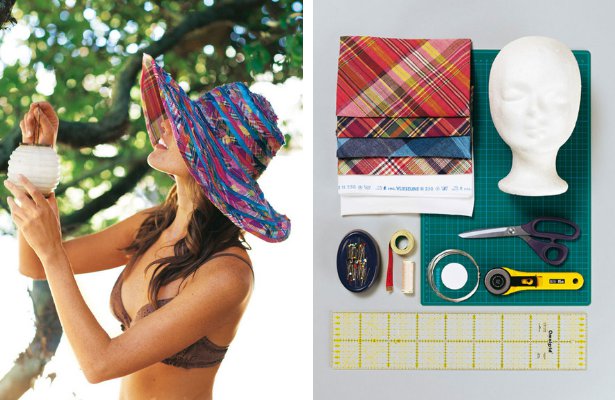 ShareThis
Garden party, barbecue with friends or relaxing on the beach – this colorful hat will be there for you and will protect you with a wide brim. Just by using up fabric scraps, this beautiful hat can come to life in just a few simple steps…

+ Fabric
+ Styrofoam mannequin head
+ Vliesofix
+ Pins
+ Thread
+ Wire
+ Cardstock (for template)
+ Tape measure
+ Scissors
+ Ruler
+ Cutting mat
+ Rotary cutter



Step 1: Cut 1 circle with Ø 5 cm and cover with a piece of fabric. Using the rotary cutter and mat, cut 2 cm wide strips diagonally/on the bias.
Step 2: Stick circle on styrofoam head. Then pin the strips in a circle (Ø 20 cm), curling the inner edge of the strip. Stitch strips together with a narrow seam.



Step 3: Keep stitching on strips of fabric to the first circle created until the circumference of the head is reached.
Step 4: Approximately add on 10 more strips – pin and stitch them all in place using the head form as a guide.



Step 5: Make the hat brim: start with a strip circle the same circumference as the form from above. Curl more stripes on outer edge, pin and stitch until desired brim size is reached.
Step 6: Using the brim as a template, place and cut out of Vliesofix and fabric for the lining (no seam allowance on the outside, inside add 1 cm). Fuse brim and lining to either side of Vliesofix.



Step 7: Pin and stitch the hat with the brim (the inner circle), and them lay wire around the outer of the brim and cover with an additional strip and either hand sew in place or my machine. This is like a bias strip finishing he outer brim of the hat sandwiching both the lining, brim edge, and wire within the final strip.
FINISHED! Use all different color fabric strips, or all the same for a cohesive look – the possibilities are endless! Now all you have to do is remember to pack in your bag and head to the beach.



top left: Bikini; top right: Net Top; bottom left: V-Neck Kaftan; bottom right: Bandeau Top & Sarong
Happy DIYing!