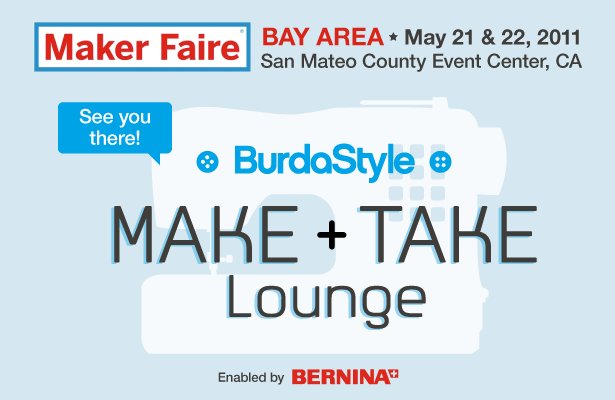 ShareThis
It's that time of year again, time to pack up our sewing machines and head out West for Maker Faire San Mateo and we couldn't be more excited to be a part of this amazing creative event once again! Watch out for our Make + Take Lounge where we'll be helping newbies learn how to sew and giving you stitching veterans a chance to show us your stuff with our fun and Easy Drawstring Bag project. Come hang out, test your skills on one of BERNINA's amazing new 3 Series machines and whip up your own bag with one-of-a-kind fabric specially printed for us by our friends at Spoonflower.
Make sure you swing by on Sunday, May 22nd between 1 and 3 PM when Sublime Stitching's Jenny Hart will be on hand to demo a range of different embroidery stitches and answer all your burning questions. Come get your stitch on with Jenny or just stop by and say hello. We'll have plenty of tools to go around so anyone can jump in and give embroidery a try!
We'll be there with Lomography cameras in hand, documenting the whole thing so make sure to come out and see us May 21st and 22nd at the San Mateo County Events Center. See you there!
And calling all sewing enthusiasts: we need your help! We're looking for volunteers in the Bay Area to help attendees at our at our Make + Take Booth stitch up their drawstring bags. Ideal candidates will be able to work one 4 hour shift either Saturday, May 21st or Sunday, May 22nd and in exchange for your help we'll hook you up with a free Adult Weekend Pass to the faire! If interested please contact lindsey@burdastyle.com for more details.