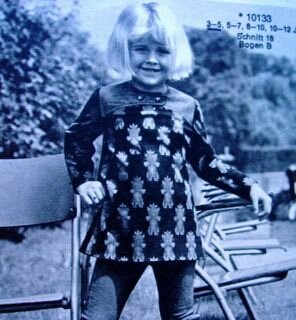 ShareThis
The first clothes I ever loved were made for me by my mother. Jumpers, tunics, spin-out skirts that went horizontal when I twirled; much as I resented standing still for measurements in her room filled with patterns and fabrics, I gloried in having a personal couturier. If I wanted butterflies on everything one year, I had them. Life was good.
Time goes on, however, and by age eight I had laid down the law to my callous-fingered mom: Store-bought clothes only. The racks gleamed with a new kind of glamour, the glamour of the popular girls at school, Aimee, Somer, Ryan, Piper. I wanted what they had: Brand names. Like every fashion victim, young or old, I was convinced that by copying their outfits, I could capture some of my idols' elusive magic, too.
But time goes on, and on. I have come back around to the handmade: In this era of the mass-produced, it was what we make ourselves that feels modern to me. Aenne Burda understood that kind of modernity: When she offered sewing patterns to readers of her groundbreaking fashion magazine, she did more than make designer looks accessible; she made them adaptable, too. It was that act of invention that makes fashion style, and every time I reshuffle the deck of my closet and deal myself a new look, rehab old tee-shirts with a razor and some stencils, or customize my thrift-store finds, I honor the Burda legacy. Sure, I have still got some brand-name jeans. Sure, I still take fashion inspiration from an icon or two. But I have learned to love the me in my clothes, the figurative butterflies I continue to stitch onto all my favorite outfits. Some things you never really leave behind.
And so, in honor of the BurdaStyle launch, this week I will be celebrating a few other things I have never really left behind people, places, styles and stuff that have informed my style since way-back, and that I still think are pretty awesome. Stay tuned.