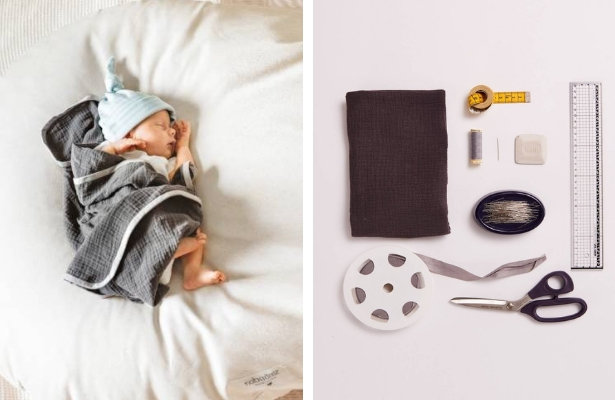 ShareThis
Baby's first blanket is something very special: soft, warm, and always there – many can remember their own even in adulthood. It is even better if their favorite companion is handmade, and with this tutorial it can be sewn in only four steps!
Photos: ©Jan Schmiedel

+ Double gauze fabric
+ Double pressed bias tape
+ Pins
+ Scissors
+ Tape measure
+ thread
+ Chalk
+ Hand sewing needle
+ Ruler



Step 1: Round off the corners of the fabric using your scissors. You can also take a cup or a glass to help and trace the round edge with a chalk pen and cut it to the line. If your fabric has two good sides, you can use only one layer – but if there is a right and wrong side, simply place the wrong sides together and baste along the outer edges.
Step 2: Unfold the bias binding and put it on the edge right sides together.



Step 3: Stitch along the fold of the bias binding.
Step 4: Put the bias tape around the edge of the fabric, iron and pin in place. Then sew on by hand…



Step 5: …Or you can sew in place by machine. Note: this will create visible topstitching on your blanket.
FINISHED See how easy it is? You can even get creative and cut the bias in contrasting fabric, and even embroider the blankie too for extra customization.



If you want to make one for yourself as well, click below to see how you can just as easily sew a faux fur "blankie" for adults…