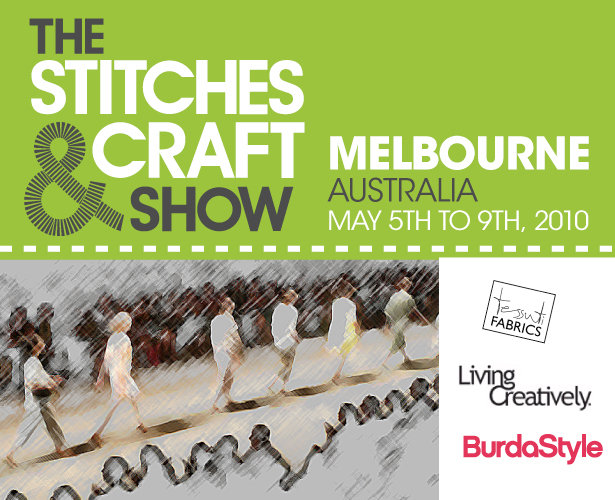 ShareThis
Exciting new competition and boy is it a quick one! You have until April 2nd to send in your garments to be entered to win an invitation to have you garment modeled on the runway of the Sitches & Craft Show in Melbourne, a $500 Gift Voucher from Tessuti Fabrics, a BurdaStyle Editorial Feature by Nikkishell, and a pattern of your choice from BurdaStyle!
Use one of these patterns:
Anda Dress
JJ Blouse
Jorinde Jacket
Ellen Pants
Marie Skirt
Create your garment and upload it to BurdaStyle, include a detailed description of your garment such as how you altered the pattern, any techniques you used, your fabric choice and any other details you think we should know. Email a photo of it to submissions@burdastyle.com by 11:59 pm EST April 2nd include 'Stitches & Craft Melbourne' in the title, in the body of the email you must include your user name, garment title and link to the project on BurdaStyle.
Here are the rules:
Essentials
• You must be a registered member of BurdaStyle.com to take part.
• You must make a garment using only one of the above patterns.
• The garment must be an Australian size 10-12 or 14-16 (this is to ensure that we can hire the correct size of model to show off your garment)
• The garment must be made using fabrics from www.tessuti.com.au*
• The pattern must be altered in some way. You may use any techniques you desire.
• You may enter as many garments as you like.
• Open to everyone worldwide (void where prohibited) provided you follow the rules above and if you are under 18 have the consent of a legal guardian
Tessuti Fabrics is located at the following addresses:
Surry Hills Tessuti Fabrics – 110 Commonwealth St. | 02 9211 5536
Chatswood Tessuti Fabrics – 20/369 Victoria Ave. | 02 9415 3357
Sydney City Tessuti Fabrics – 55 York St. | 02 9262 1663
Melbourne Tessuti Fabrics- 141 Flinders Lane. | 03 9654 4566
If you are unable to visit any of the locations you can purchase your fabrics through the online store:www.tessuti-shop.com
*If buying any current fabric simply copy and paste the discount code:"TessutiFabrics&BurdaStyle" at checkout to receive your 15% discount on any online order (excludes bridal/eveningwear) or mention the Tessuti/Burdastyle Competition in store to receive your 15% discount on fabrics only (excludes remnants, already discounted fabrics and bridal/eveningwear).Discount offer ends at close of competition April 2nd.
Prizes
1st
$500 Tessuti Fabrics Gift Voucher
Editorial Feature Story on BurdaStyle.com by Nikkishell
A free BurdaStyle pattern of winner's choice
Organic Cotton BurdaStyle T-Shirt
Coats & Clark 50 Spool thread set
2nd
$100 Tessuti Fabrics Gift Certificate
Organic Cotton BurdaStyle T-Shirt
Coats & Clark 50 Spool thread set
BurdaStyle gift bag
3rd
$50 Tessuti Fabric Gift Certificate
Organic Cotton BurdaStyle T-Shirt
BurdaStyle gift bag
Part 2
Entries will go into a slide show on BurdaStyle, Members will have 2 days to vote for their favorites
The top 3 finalists from each pattern choice will be chosen by 06 April and notified on 07 April. The winning garment must then be sent by Express Post to Melbourne for display at The Stitches & Craft Show.
The Show
Your garment will be presented in an on stage fashion parade each day at The Stitches & Craft Show. The description of your garment will be read aloud to show how you arrived from the original to your final piece.
Visitors will vote for their favourite garment by means of a voting box. All votes will be counted and the overall winners will be announced on the last day at the Show as well as on the BurdaStyle, Tessuti Fabrics and The Stitches & Craft Show websites.
Insurance and Responsibility
BurdaStyle.com, Tessuti Fabrics and The Stitches & Craft Show will take great care of your garment but cannot accept any responsibility for loss, damage or theft to whilst the garment is in their care. If insurance of any kind is required, this is your responsibility and at your cost.
Shipping information
Complete shipping information will be sent to you at the time you are notified that you have been selected as a finalist. No liability will be accepted by BurdaStyle.com, Tessuti Fabrics or The Stitches & Craft Show for the failure of the postal system to deliver the garment on time. You will be required to send details of how you would like your garment returned and a money order/stamps to cover the cost of return. Garments can also be collected from the Tessuti store in Melbourne.
Finalist garments must be available for any future requirements by BurdaStyle, Tessuti Fabrics and Stitches and Craft.
Contact
Should you have any questions regarding the competition please email angela.gualteri@stitchesandcraft.com.au.
Photo courtesy of