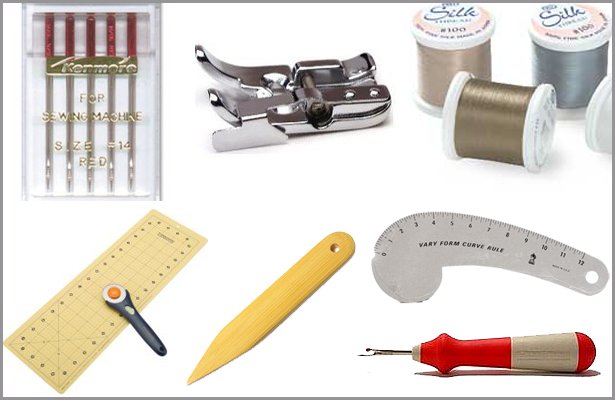 ShareThis
Getting asked "Did you make that?" by friends and family is a loaded question: Are they asking us because they know we sew and are making pleasant conversation, or because it looks—horrors—homemade? Michael Kors routinely cuts Project Runway contestants down to size by telling them their fashions look "Becky Home Ecky." A popular fashion blog recently described a celebrity's clothes as having "a tendency to look a little home sewn…you can see the darts at 20 paces."
Fortunately there are a number of sewing tools that can help you create clothing that looks better than most ready-to-wear. Recently, a sewing blog asked readers to list the sewing tools they'd advise a beginner-sewer friend to buy if the goal was to create clothes that didn't scream loving hands at home. Start with a workhorse sewing machine and invest in an iron that can press and steam all kinds of fabrics, the blog readers agreed, and add other sewing equipment as your budget permits. Here are the sewing tools they'd recommend to home sewers who want to sew like a pro:
• Good thread. Cheap thread equals frustration. —BConky
• A large [clear] quilter's rule for laying [patterns] on the grain. —Anne LO
• I finally bought a really good pair of scissors after struggling with a bad pair. —Rebecca
• If the friend is truly going to become a lifelong sewing fanatic, then a rotary cutter and the largest cutting mat she can accommodate. Rotary cutting is so much faster. —Elaray
• Small scissors for safely clipping threads. —jenibrown
• A really good sewing reference book [or several]. I've been [sewing] for nearly fifty years and am constantly updating my library. —KnitMachineQueen
• Multiple packs of machine needles. I am continually flabbergasted by the amount of newbies who think they can use one needle indefinitely, and for every type of fabric. —Melissa
• A point turner—a cheap little gadget that keeps you from doing silly things like poking corners out with dangerous things like scissors. —Irene
• A full-length mirror [for] your sewing area. —Angela
• Pressing is the best way to make a garment look [professional], so everything pressing related: a good steam iron, pressing cloths, tailor's ham and seam roll, sleeve board and clapper are musts for me. — Kennis
• I love my [wooden] combination clapper/point presser; mine must be 35 years old. —Nancy K
• A variety of pressing cloths. —Cenetta (author's note: Make sure one of those pressing cloths is silk organza, which is sheer and allows you to see what you're pressing.)
• A spool of silk thread for hand basting. White is good. —Angela (author's note: Silk thread glides easily through most fabrics, making it perfect for basting and removing basting stitches.)
• A seam ripper, or multiple seam rippers, as I tend to misplace them quite frequently. —Becky
• A variety of rulers: clear, sewing gauge and tape measure. —Clio
• A selection of pins in various thicknesses and lengths. Early on, I poked some big holes in fine fabrics with pins that were more like nails. —Carol (author's note: Glass-head pins, which don't melt when accidentally ironed, are a must.)
• A [magnetic] seam guide. Makes it easier for me as a beginner to stitch nice accurate seam lines. —Claire
• An edgestitching foot and a ¼-inch foot for the sewing machine. I use these with every garment I make, whether it is to tame topstitching, ditch-stitch or sew French seams. —Bunny
• Some kind of chalk marker in different colors. —toferet
• A serger, especially one with a coverstitch, will make knit tops look RTW. —Lori
• A French curve for when you will most certainly have to alter your pattern. —Miss Coleen
• Good interfacing. —Dana
• I went up several notches [as a sewer] when I got a dressmaker's model. It was cheap and adjustable but it allowed me to…just improve fit. I think that fit, or lack of it, is usually the thing that screams homemade to me. —mem
• Without price? A good [sewing] friend who knows more than you. —themateriallady
BurdaStyle readers, what sewing tool(s) do you rely on to help you avoid the dreaded homemade look? Leave us a comment here and let us know!
~Meg
Meg McDonald has been sewing ever since she made a peasant blouse at age 12. She writes about the wonderful fabrics, trims and notions NYC's Garment District has to offer at Shop the Garment District, an online guide for sewists and crafters. Meg shares her personal adventures in fashion sewing on her blog, Lindsay T Sews, where she readily admits she still has "what was I thinking?" moments when it comes to some of the things she makes.