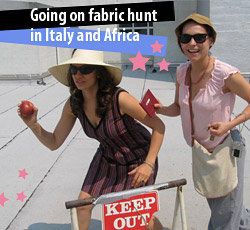 ShareThis
Yes, you read correctly, August is the best month for fabric hunt. Because: Everyone is traveling, the stores are empty! Benedikta and I are on the side of the travelers: And we love it, because while we are discovering new continents – Benedikta is in Africa, I will be in Italy, we always look out for new and creative fabrics. We'll share this with you when we are back end of August.
In the meantime Nayantara and our intern Janina are alone, so have mercy when your mails are not answered right away and when your comments are left unanswered for too long…
And tell us (we are curious), where did you find your nicest and most precious piece of fabric?