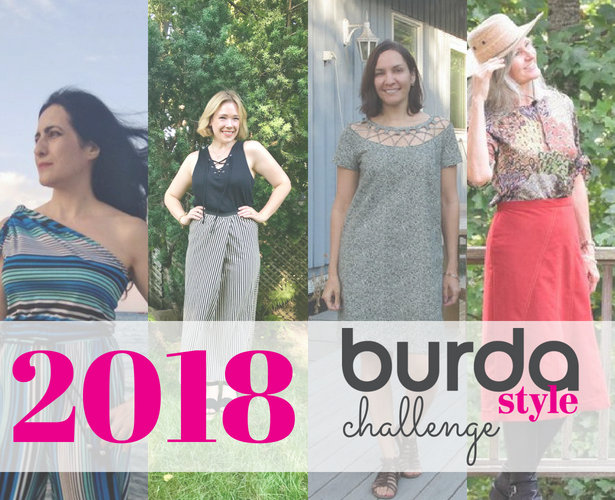 ShareThis
The summer is coming to a close, as well as summer sewing! I always find people either get a lot of sewing done in the summer or take a little sewing break. Me personally, I do a ton of sewing in the fall and winter and don't find myself sewing as much in the summer – but I in August I managed to whip up a fall pattern and quick maxi skirt that was perfect for cottaging. The #burdachallenge2018 community made some lovely garments as well! Read on to see the recap and my September (National Sewing Month!) plans…
Hila from Saturday Night Stitch just shared her planned dress project below for her #burdachallenge2018

She also shared on her blog all about sewing up our Sleeveless Peplum Blouse from the 07/2015 issue. She has sewed up several of these tops with different variations and fabrics – see them all here!
Our members below made lots of dresses!

Member Maria Hayek made this dress entitled The dress with the nicest neckline ever – and I totally agree! Then on the right lisascarolina sewed this topstitched skirt in vibrant red which she absolutely adores (and I do too)!



SeamRacer sewed up this amazing dress that was the featured designer pattern in the 02/2018 issue of BurdaStyle magazine. She made the dress her own by omitting the sleeves and using a pretty butterfly print crinkle chiffon. Read more about her dress here!



On the left, member Anne-Berit whipped up a stretch jersey dress for august evenings. She modified the dress to have long sleeves as well as graded the size from petite to tall! Then on the right is one of Elpida Kyriakou's jumpsuit, and this one is entitled The Sea Jumpsuit – and wow what a look to wear by the sea.



She also made these two additional projects – her Stencil Dress and Harem Jumpsuit. That harem jumpsuit has been on my to sew list for a while and I love her version in green.


On instagram there were also some more amazing projects shared using the #burdachallenge2018 tag:

Leopard Jumper; Striped Maxi Skirt

For my August makes, I just posted about my finished Leopard Jumpsuit that was my 08/2018 issue "Mash Up" project. Then my additional pattern I sew up was our Maxi Dress with Side Slit. For the fabric I used stretch jersey and it only took me one and a half hours to create from start to finish! I really love how this skirt turned out and over the long weekend I wore it up at a cottage over my swimsuit. See more pictures here and additional modifications.



For my September "Mash Up" I'm actually passing the reins to one of our Influencers for a Mash Up Influencer Takeover! Stay tuned to see which influencer is making our Ribbed Cuff Shirt from the 09/2018 issue! Since I'm off to Italy in a week I don't have much sewing time, but I'm making time to make our Linen Jumpsuit to take with me.



I already had this olive green linen in my fabric stash and wanted to sew something with it to bring with me on my trip. A jumpsuit seemed like a great idea, and this one I can even layer underneath it for cooler days! I love jumpsuits for travel pieces as they act as an entire outfit in one. Download the Burda Challenge Planner here.


What are you all planning on sewing in September? Also make sure to post your projects using #burdachallenge2018 so I can find and share them.
Happy Sewing!