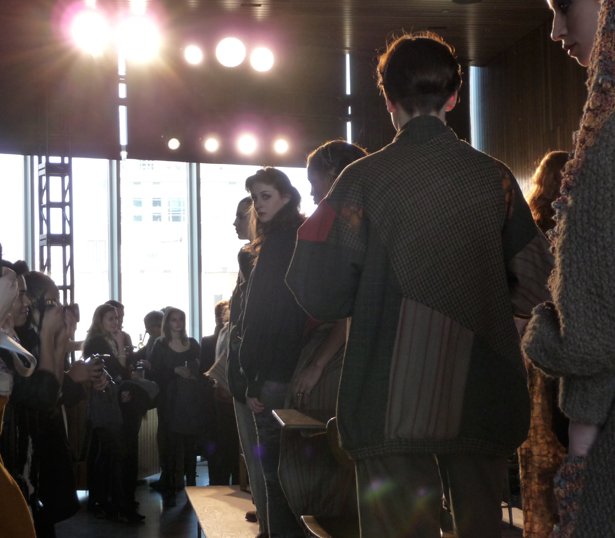 ShareThis
This week I went to the fashion presentation of Ecco Domani "Sustainable Design" winner Tara St. James of STUDY NY . Have you heard about the Ecco Domani Fashion Foundation? It's a wonderful organization geared towards launching exiting new fashion and accessory lines. Read on to see more of the show!
We walked into The Highline Ballroom at the Standard Hotel, and were instantly encapsulated by an amber-y scent wafting through the air. It turns out Tara created a signature Study NY scent with perfumer Amanda Walker. The scent is actually a lightweight luxurious blend of organic ginger, cedar, basil, allspice, clove & other rare botanicals— according to Amanda of A Perfume Organic. The smell, which reminded me of my amber-wearing-days in high school, complimented the platform stage with models standing amongst old-school classroom desks, and a large teacher's desk at center front, covered with bright red apples.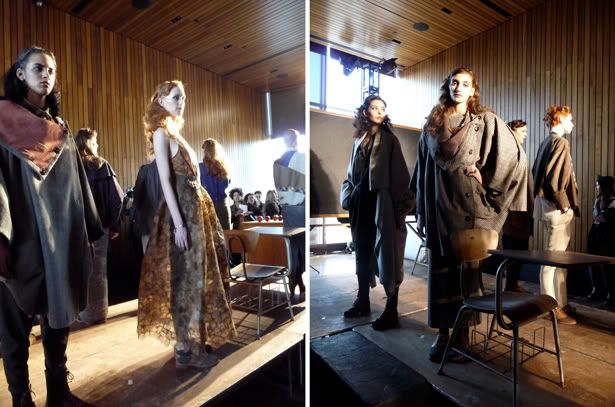 The collection, made up of earth-toned, a-symmetric silhouettes cut from vegetable-dyed silks and organic cotton knits, recycled wool and some pieced together plaids and florals, was new yet familiar— like something you may have found hanging in a vintage shop or your grandmother's closet. I covet clothing that feels like it has a story, or a history. Clothing that looks like it's been created with love, by an artist's hands. I heard someone say that Tara's mother was an inspiration behind the collection. The richly dyed textiles and voluminous, drop-shoulder tops reminded me too of my mother in the late 80s (if that is what was being referenced at all).

From STUDY NY's NOT JUST A LABEL bio: "Believing that open source material plays a strong role in the development of the sustainable design community, St James started Study Hall in the summer of 2010. Under her guidance, Study interns developed, produced and sold their own sustainable mini collections. Study Hall can now be found at several retailers in New York City and abroad. She is very open about her production and design process and documents these regularly here on her blog." Find out more about Study NY in a special interview at Refinery29.

What do you think about this sustainable collection? Do you see eco-fashion taking over? Are more designers becoming conscious of their carbon footprint? What do you do to be sustainable? For more images click here.