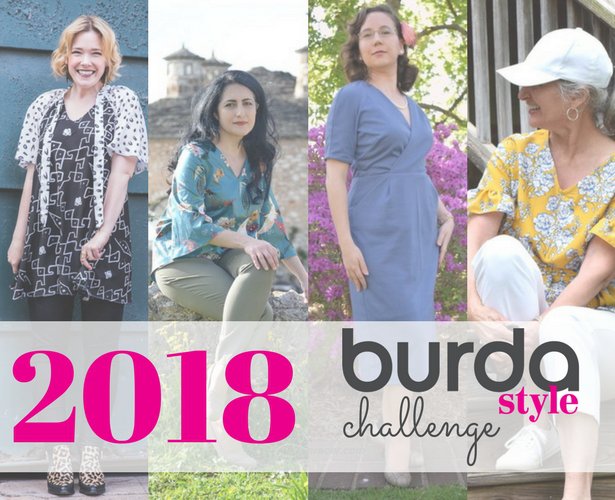 ShareThis
We have rounded up some of the makes our community has sewed up for the #burdachallenge2018 in April – and I talk about the plans I have in store for my May makes. May is such an exciting month in sewing being Me Made May as well… So much sewing to do!
Hila from Saturday Night Stitch sewed up this vibrant orange Tight Midi Dress and I how how she calls it her "Go Bold or Go Home" dress! And she also finished up her shirt dress with bustier and I'm totally obsessed with her version without sleeves below:

Our members have also been so busy sewing up garments for their April #burdachallenge2018! Lot's of spring blouses in beautiful prints – I just can't express how much I love this time of year when the frills and florals come out.



On the left we have member SeamRacer wearing her Retro Style Dress. She used a cotton knit fabric, and fully lined the dress which results in this comfy yet classy project!
Then on the right member lisascarolina is wearing her Blouse with Ruffles and I love how she styled it with white bottoms and a cap to top it all off.



Power member Elpida Kyriakou made several projects this month and I love her Denim & Lace Top on the left – what fabulous placement of the lace! Then on the right she's wearing her Stork Print Blouse during Easter Holidays.



On the left member steelyseamstress is rocking her Oversized Sweatshirt in teal made from our super easy pullover pattern.
Ellen Hatteland always sews up such unique and lovely pieces – and this Two-Piece Look Dress is a show stopper!



Lastly we have recent featured member Evmorales in her fun spring blouses! To the left she is wearing her Tear Drop & Cascade Blouse which she modified the back to. She added pleats to match the sleeves to get a more airy look. Then to the right we have her Ruffle Sleeve Belted Blouse.



Projects: peek-a-boo back mesh top; spoonflower printed dress; metallic crop top and culottes; gold dotted ruffle dress

Now for my makes! I was a busy girl sewing up a storm in April – and I love everything that I made. Will make #MMMay18 easier with these now to pick from my handmade wardrobe.
I sewed up everything I planned on in the March Round Up/April Plans post including my sporty top, Mash Up ruffle dress, and matchy-matchy outfit! I also completed my swing gathered dress which I made from ordered Spoonflower fabric with our BurdaStyle signature prints!



These were my main April Burda Challenge makes – and I'm just so thrilled with how they turned out! They are so easy to throw on and wear while looking super on-trend and it used up my metallic double gauze so well. I love just working with what I already have, and I didn't even need to go to the fabric store once last month to make all my April garments. See more images here of this outfit.



This top was an extra project I wanted to sew from the 04/2018 issue – and since I already had the fabric it was an easy decision to whip it up. See more images here and shop the pattern that I used.



Now onto my favorite part… planning what to sew! This was a tricky decision as I pretty much loved EVERY pattern in the new May 2018 issue.
For my Mash Up, I went with the Corseted Jumpsuit. A jumpsuit is always a wardrobe staple for me, and I love the shape of this one with the fitted bodice.
Then for my other #burdachallenge2018 projects I'm first going to sew the Drawstring Pants since I love the high waistline, wide legs, and those gathered cuffs!



And I planned out in our Challenge Planner how I'm going to sew up our Off-The-Shoulder Blouse. Again, using up fabrics that I already have, I picked out this vintage looking floral that I thought would be adorable sewn in this top and then worn with ripped jeans for the Spring.
So excited to start working on all of these! What are you guys making for May's #burdachallenge2018? Don't forget to upload your makes to the our projects page so I can find and feature them in our May round up post.
Happy Sewing!