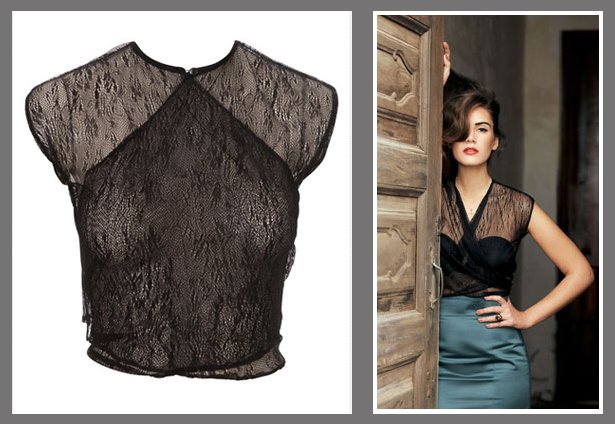 ShareThis
This week, guest blogger and couture aficionado Marina von Koenig gives us a sneak peak of April's BurdaStyle couture challenge using two handpicked sewing patterns from our upcoming issue of Burda Style Magazine.
A year ago, I started my guest blogger couture posts with a short quiz You Know You're a Couture Aficionado If… By then, I could relate to each point on that quiz. A couple of months later, I took a Classic French Jacket course at Susan Khalje's Couture Sewing School in Baltimore. It took me over 70 hours to complete my Chanel-inspired jacket. I enjoyed every minute of the process. I feel good when a garment fits me, when it's made of natural materials, in colors that suit me and quality and styles that I can wear for years to come. Now, almost a year later, I am addicted to couture. What I love most about it is that it is a creative process from the very beginning to the finished garment. Any material or style requires a different engineering or construction approach based on personal experience and judgment, something you cannot find in a regular sewing handbook. Couture takes me beyond technique and allows me to experiment.

Having spent time learning the techniques and making my own couture projects as Susan's student, I thought it's time to challenge myself to creat[e] a couture wardrobe, trying new fabrics and styles, ranging from more casual pieces to evening wear. I am very happy that BurdaStyle is hosting the challenge and providing the patterns, and I am very lucky that Susan Khalje agreed to be a mentor.




The Challenge
So, every month I will pick one or two styles from a current Burda Style Magazine, consult with Susan about my engineering and construction decisions and create a couture version of the style featured in the magazine. The fun part is that I will not only post the image of the finished garment, but [I'll] also share with you the crucial planning process, as well as some tutorials and techniques I use to create it. I do feel a little giddy about this couture version of a baptism of fire, so wish me good luck!

Meanwhile, let me dive into my first project – two beautiful styles from [the] April 2012 [issue] – a lace cache-coeur top (#126A) and a princess seam pencil skirt (#118B).




I liked these two styles as soon as I saw them in the March magazine preview. The skirt is very flattering with princess seams, and the lace blouse provides a focal point for the ensemble. I am not a daring type, so I will have to create a corselet to wear underneath the sheer lace.

Let's move on to the engineering and construction – the actual couture part of the challenge! Once I knew what I [was] going to make I spoke to Susan about how I thought it [could] be done. Susan Khalje is a couture expert and instructor and author of a coveted book Bridal Couture. She established The Couture Sewing School in 1993 and teaches couture sewing techniques throughout the U.S. I was happy to see that I was on the right path, but she made a few corrections. Read on to find out more:

The Skirt
The skirt will require silk organza underlining and boning.




• To add support to the fashion fabric (medium-weight silk twill), I will be underlining it with silk organza.

• The raised waist of the skirt will benefit from extra support and structure that can be best achieved with boning. Susan recommends to attach boning to the facing and extend it [an] additional 3" below the waist: "You want to make sure that things are nicely smooth over the stomach."

• Susan also recommends to make the facing a separate piece: "I'd sew the skirt with its underlining, sew the lining, join these two layers together along the top edge, then attach the boned facing."

• Finally, the center back seam may benefit from off-graining for the vent to hang straight and closed. This means that instead of cutting the center seam straight on grain, it is done at an angle, with the width increasing toward the hem, where the slit is. The amount that needs to be added depends on many factors. "You kind of have to experiment, but you might adjust each of those seamlines by about ½" to ⅝" by the time you get to the hemline," Susan says.

The Blouse
I want to use Chantilly lace for this blouse. It is a rather delicate material to work with, so I need to make a few decisions on how to support the lace. Does it need underlining, how will it be stabilized – along the hem or at the armholes?




I have worked with other lace types, but Chantilly is new territory [for] me, so I was very happy when Susan offered a few great tips:

• "It depends on your lace, and how much body it has (often determined by the density of the motifs), but you may not need an underlining. That's for you to determine – feel it and see how strong it is. If it seems really fragile, I kind of like the idea of underlining with silk chiffon – I think organza might be a little crisp in this situation. You could also assess the hand of it – see how it feels when you gather it up with chiffon and without chiffon – they'll feel different, and you may prefer one to the other."

• French seams, recommended in instruction, are a good option, but I wanted the seams to be invisible. My first guess was to overlap the motifs along the seamline and join them with a fell stitch, but Susan had a better option: "Sew the shoulder seams normally, and bind the trimmed-down seam allowances with little bias strips of flesh-colored silk organza – that way they'll totally disappear against the skin."

• To eliminate side seams, Susan suggests joining fronts to the back – "they are straight anyway" – and spreading it out along the border of the lace. "I'd run the scalloped edge of the Chantilly along that bottom edge, then that will be finished off nicely." This is a great option but requires almost twice as much fabric, so I may as well cut all the pieces separately and treat the side seams in the same manner as shoulder seams.

• Neckline treatment is another challenge with Chantilly. "Be careful – there's pulling on it, so you've got to make sure it can withstand it," Susan warns. "So, lots of fine fell stitches around the motifs – and even if you didn't underline the whole blouse, you could always put a little flesh-colored silk organza under the sections that will be appliqued – it will stabilize them nicely."




With these great tips, I am all set to start working on my skirt and the blouse. I hope this post will inspire you to try these techniques and create a beautiful and effortless garment. As for me, in my next post, I will be blogging about the final result, the couture details as well as additional resources and tutorials. Stay tuned!

Marina von Koenig shares her couture learning experience on her blog Frabjous Couture (also available in German).