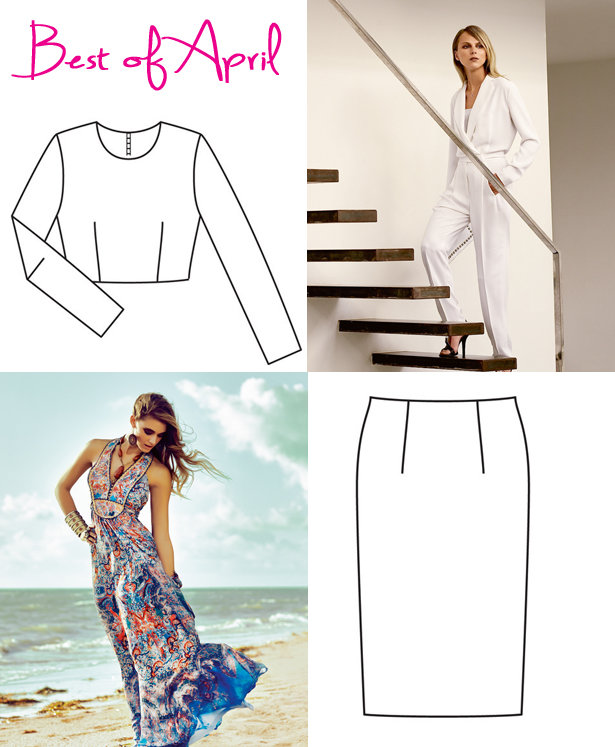 ShareThis
We're counting down the top ten best selling patterns for the month of April.
Is it just me, or did April fly by? Between the blustery weather and crazy busy schedule, May snuck up on me! It's going to be full on hot and sticky summer before we know it. Although, with the patterns going up in the May issue of Burda Style, I can't really complain!
In case you missed it, take a look at our 10 most popular patterns from last month. From high fashion jumpsuits to bohemian dresses, see what other BurdaStylers are sewing up.
A pattern of the week pick.
9. Dress with Gathered Rectangle Skirt and Cap Sleeves 02/2011
Always a best seller in the springtime!
8. Charlie Reusable Grocery Bag
This roomy tote is ready for the farmers' market.
7. X Wrap Dress 04/2014
A sculptural masterpiece for sophisticated stitchers.
6. Island Placket Dress 04/2014
Ready for a beachside vacation!
5. V Neck Flutter Dress 05/2014
Timeless and feminine.
4. Smock Dress 04/2014
Perfectly casual for spring weekends.
3. Basic Skirt Sloper and 2. Basic Bodice and Sleeve Sloper
Practice your design skills with these drafting essentials!
1. Wrap Blouse 04/2014
Elegant, on trend, and our most popular pattern all month long.
Are you sewing any of these popular patterns? We can't wait to see your finished projects!
Happy sewing!