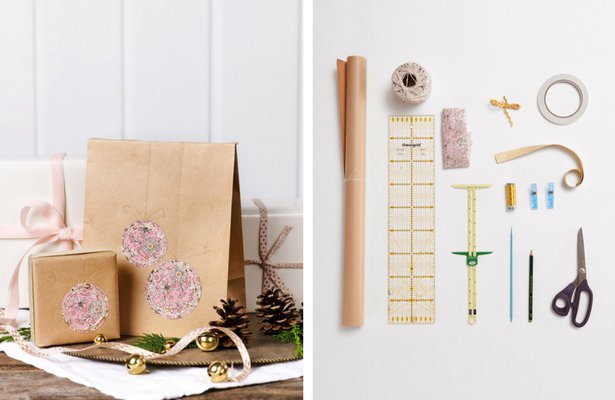 ShareThis
Beautifully wrapped gifts make the holiday season even nicer. With this gift-wrap paper, the packaging is as lovely as the contents…
Use up all your little scrap pieces of fabric from your hand made gifts and make the outside of your gift just as nice as the gift itself. Just make sure to not use a brand new needle sewing through the paper, as it will dull.

+ Brown packing paper
+ Fabric scraps
+ Ribbons
+ Double-sided adhesive tape
+ Clips
+ Metallic thread
+ Knitting needle
+ Compass
+ Ruler
+ Scissors
+ Edge tape
+ Pencil



From brown paper, cut a rectangle (here 64 × 34 cm/ 25 ¼" x 13 ½"). Fold both narrow edges to center, each at 17 cm (6 ¾") from edge.



Draw positions of balls with pencil. Stitch hanging ribbons and bows with metallic thread (Tip: Carefully roll side edges of paper toward centre and secure with clips. The paper can now be moved more easily when stitching.)



Cut two fabric circles (here approx. 5 – 8 cm/ 2" – 3 ¼" in diameter). Stitch circles to paper, also catching a decorative ribbon, if desired.



Close the back of the bag with the adhesive tape. Measure approx. 14 cm (5 ½") above the lower edge and carefully score a line here, with the knitting needle.



Working from each outer edge, fold triangles under, along the scored line.



Next fold both side edges toward back, each approx. 6 cm (2 ½") wide.



For the base, fold both triangles toward centre and secure with adhesive tape.



Finally, to reinforce the base, cut a rectangle, 12 × 18 cm (4 ¾" x 7") and adhere in place with tape.



Ready to place under the tree and give to all your friends and family!