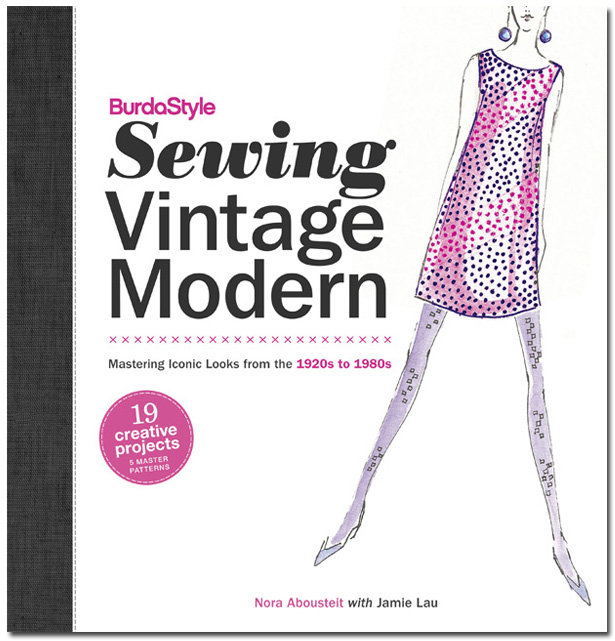 ShareThis
Paging all fashionistas, DIY sewers, handmade hobbyists, and vintage enthusiasts! We have a HUGE announcement to make. Our second book is coming out this year, entitled BurdaStyle Sewing Vintage Modern: Mastering Iconic Looks from the 1920s to 1980s. In fact, it's already available for pre-order at sites including Amazon.com
, Barnes & Noble, and IndieBound.
I just received my advance copy today and am SO thrilled that we finally get to let the cat out of the bag. Taking a cue from our members' love of retro-chic style, working on creating the designs and projects featured in this book has truly been a labor of love. It's so surreal to think that all those countless hours of work have finally resulted in a beautiful, tangible object to share with the BurdaStyle community and beyond.




While fashion fads come and go, the classic styles in this book are truly timeless – from Jackie O.'s signature sheath dress to a Madonna-esque '80s bustier. Similar to The BurdaStyle Sewing Handbook, this book comes with five customizable master patterns that yield literally endless variations. Starting with basic forms for dresses, pants, skirts, and shirts (and yes, we even have menswear projects!), you can transform from one look to the next with our easy-to-follow instructions.

In addition to sewing and patternmaking tips, you'll also get a crash course in vintage fashion. Each chapter focuses on a different era including signature silhouettes, designers you should know, must-have accessories, and style icons.

The book comes out on December 11, 2012, but help us start spreading the word today! This is a perfect guide for every sewer, from beginners to experts, and offers enviable vintage looks with modern sensibilities.


Jamie Lau is BurdaStyle's Editorial and E-commerce Manager and the Co-Author and Lead Designer of the forthcoming book BurdaStyle Sewing Vintage Modern: Mastering Iconic Looks From the 1920s to 1980s. A self-taught seamstress, she now designs for her eponymous fashion label and teaches sewing courses in New York City, where she resides.