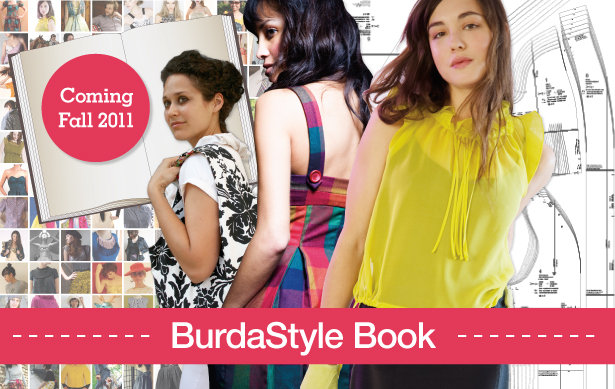 ShareThis
We at BurdaStyle are thrilled to announce the creation of our first ever book! Extending our community and mission offline, the BurdaStyle book will be a reflection of our creative international community. The BurdaStyle book will bring our community and ethos to new frontiers!
The book seeks to further engage, share, and expand the BurdaStyle community, as described by Nora a co-founder of BurdaStyle, "The book is a true manifestation of the global creativity of the BurdaStyle community. With the pattern making expertise of Burda, we're thrilled to offer even more inspiration from and for BurdaStyle users.."
The book aims to be a combination of coffee table book and creative outlet. Our pages will inspire and incite readers to push their sewing skills and continue creating! Much like the BurdaStyle online community, the book will be a comprehensive sewing resource, featuring fantastic, easy-to-understand projects, sewing creations made by our talented members, an extensive glossary of key sewing terms and much more. We are excited to offer this book to sewing enthusiasts and interested observers alike.
The book's publication, set for 2011, releases five brand new BurdaStyle patterns designed by our creative director, Alison Dahl Kelly (Dahl by Kelly, Project Runway). The patterns enclosed will be high quality Burda patterns, with the fitting accuracy of over 60 years of experience. The concept of the book focuses on variations by made by select group of international community members and designers. Some of them we wrote directly, and some made it through our open submission!
Stay tuned – we're still looking for participants that can share tips, ideas, and inspiration. Our goal is to include as many members as possible.
Each of the five patterns will feature steps to replicate the featured variations, as well as images of other interpretations to serve as further inspiration. Like BurdaStyle.com, readers can create their own versions to share or sell!
As project manager of the book, it is my honor to announce this engaging and exciting new chapter in BurdaStyle history! You may have seen my featured member post! I am happy to reveal the mystery behind our "secret project." It has been a joy to communicate with so many of you and I look forward to meeting even more talented members!
I will be making posts on our blog as the book develops, becoming more frequent towards the release date.
-Rachel @ BurdaStyle