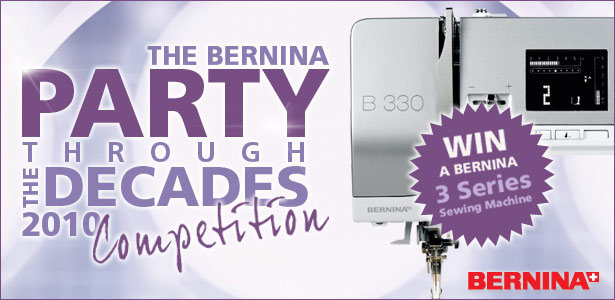 ShareThis
Calling all independent designers, sewing hobbyists and D.I.Y. crafters from around the world: Here's your chance to win a BERNINA 3 Series sewing machine or cash prizes by putting your design skills to the test!
BERNINA 3 Series and BurdaStyle cordially invite you to showcase your best work, by competing in our "Party Through The Decades" international design competition. We're summoning you to create a party look inspired by your favorite era in fashion history. Which decade represents the epitome of style: Are you mad about the 50's? Do you swoon over the roaring 20's? Your party look can be a dramatic evening gown, a dress, or even a tuxedo! Inspiration could be found in a painting, an architectural monument, film or fashion— we just want to see your best skills put forward towards creating a dazzling party look!
To enter the competition you must submit the items listed below to: submissions[at]burdastyle[dot]com with "BERNINA Party Through the Decades" in the subject line. The deadline for submissions is November 23rd, at 11:59pm EST.
1. Inspiration image from your favorite era. Where did you find inspiration for your look? Your inspirational image can be a single image or multiple images depicted in a mood board or collage. You can combine two decades if you're so inclined— just remember, we'll be looking for innovation, technique and gaiety. Please double check that your inspiration image is at least 600 pixels wide.
2. Head to toe, front view photo of your party look. Please make sure your submission photo is high-resolution and at least 600 pixels wide.
3. Username, Project Name & Link to your project on BurdaStyle. Once you have sewn up your garment, upload it to BurdaStyle.com and put "BERNINA 3 Series" in the title. Simply copy and paste the url of your project into your email. Example: http://www.burdastyle.com/projects/black-ruffled-cape. Your project page is the perfect place to show off all other photos of your party look.
On November 29th, BurdaStyle will launch a slide show of the 50 finalists, where our community will have the chance to vote on their favorite party looks. Three lucky winners will be announced on December 14th via blog post and newsletter!!
1st Place- $300US cash prize
2nd Place- $100US cash prize
3rd Place- $50US cash prize
One lucky winner will be chosen as a sponsor favorite by BERNINA to take home their own BERNINA 3 Series sewing machine.
This competition is open to all BurdaStyle members, including international members! For official rules click here. There is no limit on submissions.
Step up to a machine that won't hold you back: The BERNINA 3 Series. The affordable new line that combines superior performance, outstanding durability, and incredible Swiss engineering.