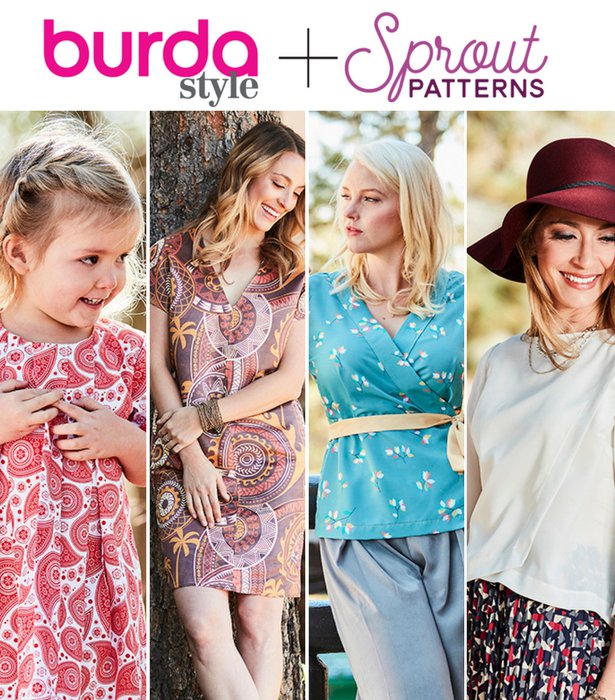 ShareThis
We've teamed up with Sprout to offer you six essential BurdaStyle patterns that you can fully customize! Each pattern will come with step by step instructions (and illustrations!), plus exclusive video tutorials. Read on to learn more and discover the fun of going from computer screen to sewing machine today…
Choose one of the six below BurdaStyle patterns, including kids, standard and plus-size garments. Then upload a fabric design or choose from the BurdaStyle fabric selections within the Spoonflower library to create a completely custom garment. Approve your 3D rendering, and then add the project to your cart. Your pattern is delivered digitally printed onto the fabric! It is truly magic, and just think NO tiling together huge paper layouts, NO worrying about your fabric being perfectly on grain, and NO large fabric cutting tables needed. You can cut out your Sprout pattern with a pair of fabric scissors sitting on the couch, so it is perfect for sewists with small studios.
Here are the patterns we have avaliable to "Sproutify" today…

Our Wrap Blouse is one of the most popular top styles on BurdaStyle.com so we just had to include it!



Create your own here and get creative with pattern mixing for the different front panels. This top is a regular size pattern and avaliable in sizes 34 – 42 and can be sewn in light-medium weight woven fabrics.



Our Boho Blouse is the perfect everyday comfy-casual top that can be dressed up or down depending on how you sew it.



Customize yours here and have fun mixing up the body and band prints in the process. This is a regular sized pattern avaliable in sizes 36-44 and can be sewn in light to medium weight woven fabrics.



We had to include a dress style and we went with our Mint Dress pattern from the 05/2012 issue. It has an easy-going silhouette that can easily be belted for a different look.



Because of the silhouette this dress can be sewn in a wide variety of fabrics from knit to suede! Design yours here and select your print and fabric type. Although this dress is regular size, if sewn in a knit can be made for plus sizes too! It also features a handy (and edgy) exposed metal side zipper because we all love a dress with pockets.



This Plus Size Cap Sleeve Blouse is both flattering and functional! The wrap style allows for fit perfection and waist definition and also has little cap sleeves.



This top is avaliable in plus size 44 – 52, and can be sewn in a variety of woven fabrics. Make your own here and try adding in coordinate colors for your band pieces.



We couldn't leave out the little ones! This first girl's dress is our Sleeveless Dress from the 08/2014 issue.



Design your own here and have fun adding in a contrast panel to the the middle pleat. This style is avaliable in children's sizes 92 – 116 and can be sewn in any medium weight woven fabric.



Lastly we have our girl's Pleated A-Line Dress complete with little sleeves.



The large pleats make the dress swing and give the prints extra dimension. Customize your own here in children's sizes 104 – 128. Best of all with the purchase of a Sprout pattern and fabric, you also get the pattern PDF with all the sizes so you can make again in a larger size for your growing girl!



We also created a ton of original fabric designs inspired by our favorite fabric prints featured in BurdaStyle magazine, so if you make a Sprout pattern make sure to select a BurdaStyle fabric design as well… or upload your own to make is even more custom.



Happy Sprouting!