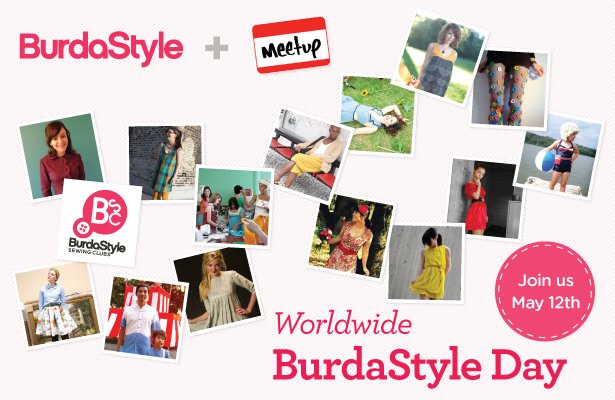 ShareThis
Everyday at the BurdaStyle office, we are amazed at how beautiful the BurdaStyle community is. Not only do we have fantastic sewers, we simply have fantastic people, supportive of each others' creative journeys, willing to offer help, and willing to share in each others' frustration, fears and successes. We are an online community with old-neighborhood charm — over 500,000 strong and growing.
In celebration of this supportive environment, we had an idea: Wouldn't it be fun to have a BurdaStyle Day?
Set for Thursday, May 12th, this day will be a celebration of the wonderful interaction we see everyday on the site, and a chance for our members to meet each other in-person.
Currently, we have over 260 Sewing Clubs (BSCs) around the world who do this regularly. Having been inspired by their passion and enriching relationships, we want more of you to experience meeting one another offline, and we wanted the process of doing so to be easier and more accessible than ever. Thus, we have decided to use Meetup's 'Meetup Everywhere' platform, a wonderful way for all of you to meet fellow BurdaStylers right in your area, plan an event and date, and share meeting pictures and recaps all in one place.
What better way to launch this new initiative than with a BurdaStyle Day?! If you are already in a BSC, rally your group together for this special day and share your latest creations or works-in-progress. If you aren't in a BSC, make one! Plan a BurdaStyle event in your neighborhood and invite friends, family and BurdaStyle members for a bit of sewing love. What you do is up to you. You could plan a craft night or show-and-tell, make it a wine-and-cheese social or a cupcake party. Host it at your favorite cafe, your nearest sewing lounge or in the comfort of your own home. You and your fellow members can decide the details.
Sounds fun, right? If you're ready to start planning your BurdaStyle Day event, visit our Meetup page, then click the "Start a new community" hyperlink under the communities list. Enter your city name then list your venue. It's a simple as that.
As an added benefit, the top 5 groups with the most attendees to RSVP on their Meetup page will receive a special BurdaStyle prize package! For more suggestions on what to do, check out this Sewing Club idea list.
We can't wait to see what fun events you all plan. Happy BurdaStyle Day!
- The BurdaStyle Team