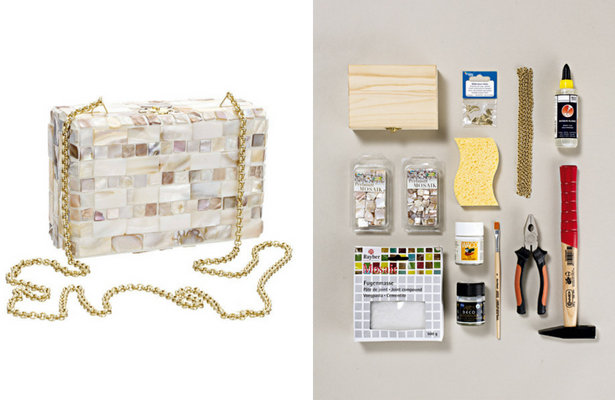 ShareThis
Surprise! This clutch is not sewn, but made from a small wooden jewelry box. It is elevated and decorated as desired with mother of pearl, fabric, buttons or cake lace. We show how to do it below!

+ Jewelry box
+ Picture hangers
+ 1 gold chain 120 cm long
+ Mosaic glue
+ Mother of pearl mosaic
+ Sponge
+ Grout
+ Acrylic white paint
+ Varnish
+ Brush
+ Flat-nosed pliers



Step 1: Paint the box white inside and outside. Let dry. And then nail a picture hanger on each side of the box with the hammer.
Step 2: Glue mosaic stones all around the box and then grout according to the instructions (see packaging of grout). Let dry.



Step 3: Now paint the whole box two to three times with the top coat. Finally attach the gold chain to the picture hangers with the flat-nose pliers.
Finished! See below for outfits to wear with this unique purse all from the 08/2018 issue:



Play up the mosaic on the bag by sewing a dress in a printed fabric, we love this dress pattern! Then pair with a metallic pump for a date night look that you will be noticed in.



For an everyday look, pair this clutch with these pants and a textured top like this one. Match the chain of your purse to your shoes and go bold with some gold boots!
Happy DIYing!