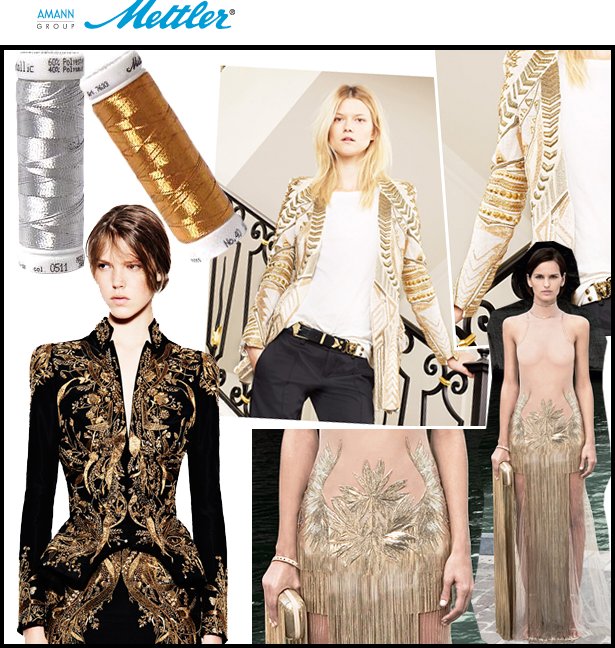 ShareThis
From the romanticism of Alexander McQueen to the rock 'n' roll rebellion of Balmain, metallic embroidery is adding a luxe edge to some of fashion's latest looks. Check out some of our favorite embroidered creations and try it on your next project with Amann Group Mettler Poly Sheen® thread. A larger surface area means the thread reflects more light and is sure to bring attention to wherever you decide to stitch it. Toss in a few sequins or beads for a textural effect and take your garment project to the next level.
Want to try it at home? Machine embroidery is most obviously the easy way to go, but don't be afraid to do your embroidery by hand (it's super therapeutic as well). Use thread to bring out a pattern or shape on your fabric, finished garment project or even a store-bought item. It's a great way to add a luxe, personal touch. Check out our handy list of links to help you get started and a few BurdaStyle patterns that we think are the perfect template for a little metallic embroidery.
- Channel the rock 'n' roll vibe of Balmain by adding colored metallic embroidery to our Three Quarter Sleeve Dress. Ditch the lace and make it in an ethnic patterned fabric that you can use as a guide for your embroidery.
- Go ultra romantic with an embroidered bodice gown using our Strapless Wedding Gown pattern. This project doesn't necessarily have to be for a wedding day, it would make a great prom or formal dress like this beautiful one that misslivia made for her prom festivities.
- Kick a rough-and-tumble basic up a notch with strategically placed embroidery. I love this Dries Van Noten parka because it's a wonderful mix of utility and beauty with the silver and bead embroidery on the sleeve. Give this juxtaposed look a whirl with our Hooded Parka pattern, or test it out on one of your old jackets to see what you think.