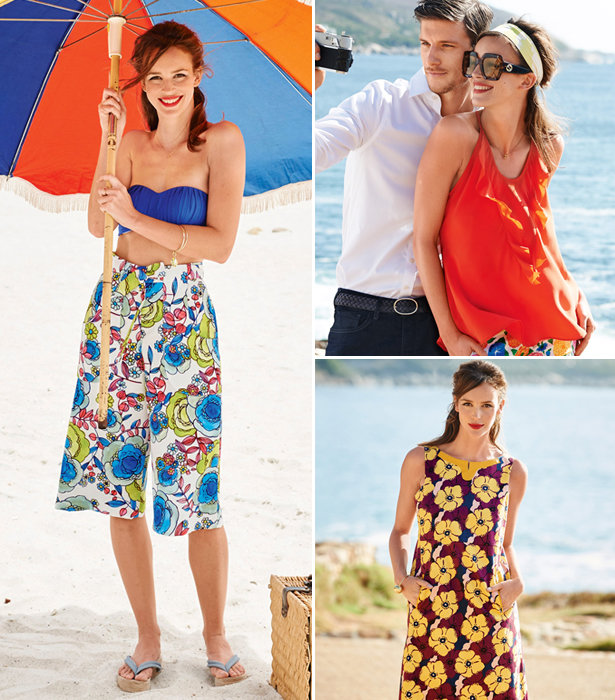 ShareThis
This collection from the July 2016 issue of BurdaStyle is comprised using bold floral prints reminiscent of the 60s make dresses, with trousers and skirts that are even more feminine, perfect for a leisurely say on the Amalfi coast.
Click on the pattern image to go the pattern store page…
The sewn-on flounce of the ruffled blouse is cut on the bias and attached with a tipped point for an especially beautiful touch. The connection at the neckline is enough to secure the front and back together – no shoulder seam needed. To ensure that the silk threads don't pull during the sewing process, we recommend using a new (!) Microtex (Sharp) needle in size 60/8.
Rather than side seams, the side panels curve around to the front and back panels of this skirt. The front seams include pockets. The waistband is accentuated with strips of petersham sewn onto the reverse side of the fabric for a visual contrast.
They look as great on the beach as they do in the city! The rounded large-pockets of the knee-skimming culottes extend right over the waistband. A wide tying belt lets you easily adjust the look.
The relaxed mood of holiday time gets started even in the process of sewing this dress. The feminine dress with the fitted bodice and relaxed skirt swings with its laid-in inverted box pleats.
Accent bands and piped pockets for this classic 60s A-line shift dress are sewn with a fine nappa lambskin. It is lined to the waistline so it also stays perfectly in place. Clothing with details in nappa lambskin can usually be washed with the "Hand Wash" cycle of the washing machine. (Be sure to try a test with a small piece on the cycle to check before sewing). For those wishing to use a regular wash cycle or a warmer water cycle, it is better to use an imitation leather.
The luxurious print gets its full effect with minimal disruption due to discreet darts and panels that come together cleverly in front of this short sleeve cutout dress.
This jersey wrap dress is sexy and still comfortable. The twisted straps and wide hem flounce showcase feminine curves and beautifully shape a slender line at the waist.

Get all of these patterns in one download at a discount here!
Happy Sewing!