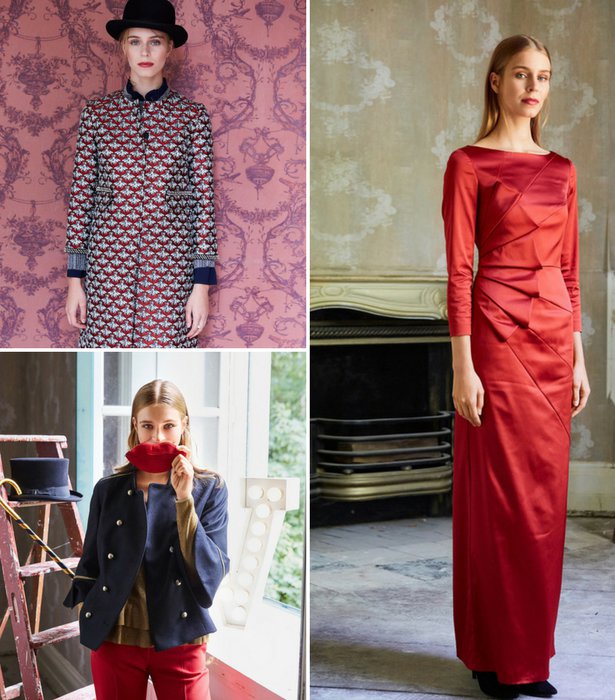 ShareThis
These exceptional designs from the 12/2017 issue of BurdaStyle magazine include uniform details, asymmetric pleats and glamorous fabrics that demand attention.

This skirt is a combination of the best features! A wide hip yoke with carefully placed pleats is quite couture and the design is such that patterned fabrics can work beautifully. A walking slit in the back keeps it easy to move around in.



This asymmetric pleated dress that closes at the shoulder with golden buttons is perfectly designed for the proportions of tall women. The sumptuous velvet adds a dramatic dynamic of light and shadow effect.



This dress is beautifully haute couture and surprisingly easy to sew together. The fan shaped panel seams of this dress are attached at various lengths into the side seam – for a sensational visual effect that is almost like a spider web.



A jacket with classic uniform style that is also oh so feminine. How is this possible? The waist drawn in, the sleeves get a flared kick and the double breasted front gets softened with an outline of golden soutache. The standing collar and yoke have a stroke of gold, as well. Simply stunning.



Look and feel like a goddess in this asymmetric draping top sewn with a shimmering pre-pleated fabric. Delicate pleats have the additional visual effect of soft gathers with the over-cut shoulder design.



Elegance and a bit of humour… as the print is one of miniature flies! It is a bit of a rogue move since this tunic blouse with the neckline slit, smocked waistline and mini pleats at the shoulder is otherwise quite savvy.



Fashionistas will love this design! The inverted pleats and the sophisticated panel seams add lots of movement to the front. The trendy leaf print lurex fabric adds a festive element.


The cut says caban jacket and the fabric says party piece… This double breasted style is sewn in a jacquard lurex that looks as great with a pullover and jeans as it does to top an exciting evening look. Putting together details like the lapels, patch pockets with flaps and tabs at the sleeves is explained step by step in the sewing instructions.

A classic look in front with a surprising accent in back. The silver sequinned fabric is embellished with an XL bow in satin and extra swing thanks to the deep inverted pleat.



This fitted coat with the shoulder yokes and flap pockets functions well for indoor and outdoor wearing. Darts at the neckline make an immaculate finish along the neck and topstitched trim adds an extra sophistication.


Make all these formal styles with the discounted pattern collection bundle here!