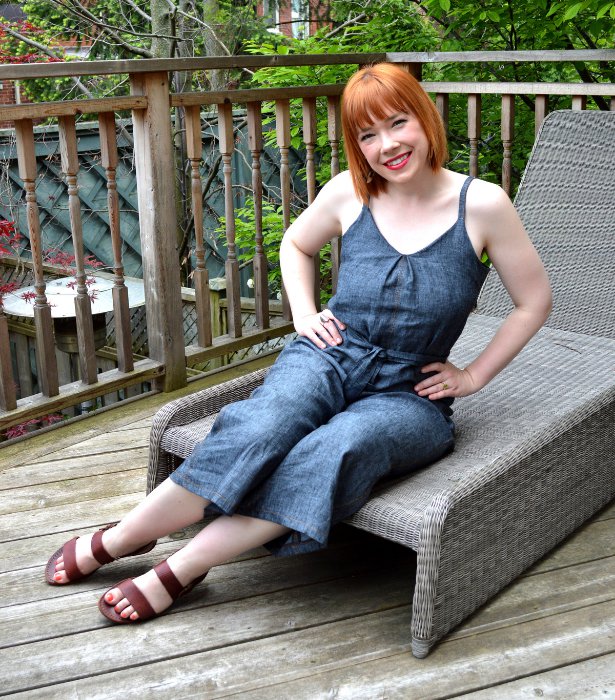 ShareThis
As I mentioned in episode 16 of Sew & Tell, I love jumpsuits! But determining the size of a jumpsuit can be tricky though, especially if you are short or long waisted and your typical size doesn't correspond to your torso length. Below I go over how to measure your torso and translate that measurement to your jumpsuit pattern! I also go over our most popular jumpsuit patterns as well as some runway jumpsuit inspiration.
Pictured above I'm wearing the jumpsuit I sewed for my Pattern Play Column in Sew News Magazine!

First things first, you need your torso measurement. You may need a longer than the usual 60" measuring tape to accurately take this measurement since it goes from shoulder to shoulder through the crotch. Wear form fitting pants and your usual bra and straddling the measuring tape, record the measurement at your shoulder without pulling the tape too tight. Mine measured in at 59".
Now to translate this onto your jumpsuit pattern divide the measurement in two.
59" / 2" = 29.5"
For the front jumpsuit ADD 1", and for the back jumpsuit ADD 2 – 2 1/2". This is your basic ease.
So my front jumpsuit from shoulder to front crotch should measure 30 1/2", and my back jumpsuit from shoulder to crotch should measure 32".
I went back and measured one of my favorite fitting jumpsuits and the measurements were spot on!



With the garment flat, I measured from the middle of the strap along the front to the crotch point. It measures 30 1/2".



And I repeated for the back.



You may need to roll out the back crotch curve a bit to get the point because of the natural curvature of the back crotch seam. Mine here measures my 32"!



One of my favorite jumpsuits! I love the style, but also the fit of this one as it's comfortably to both walk, stand and sit in which is super important. If you are making a jumpsuit style that is belted like this one then you may want to add a little bit more length to blouse over the belt – about 1" to each front and back measurement.



Now for how you can implement this on your pattern! This is our Trumpet Sleeve Jumpsuit which is actually a tall sized pattern that I have tiled out and ready to cut from my fabric. But before I do so I want to make sure the torso length is correct, so I measured from my size line's shoulder diagonally to the crotch point.
Sometimes you need to take some pattern details into considerations too, this jumpsuit style has a casing so I had to add the casing amount to my measurement which was 2" since the casing width is stitched on either side of the waistline seam. If you need to lengthen/shorten your pattern to achieve your measurement click here to see how to do so. If you have more than 1" to adjust I would suggest breaking it up into two slash lines above and below the waistline instead of adjusting all in that section.



Measure the back in the same way. My back needed to measure 34 1/2" (half of my torso measurement + 2 1/2" ease + 2" self casing width).



Now here is the jumpsuit sewn up with the casing!
Steps for a jumpsuit with shoulder seams:
+ Measure torso measurement
+ Divide into two
+ Add standard ease (1" to front and 2 – 2 1/2" for the back; use the larger added amount if you have a rounder bum)
+ Determine extra amounts to add if necessary (belts, casings, seams, etc.)
+ If a paneled jumpsuit, align all paper pattern pieces together (it is easier if you cut out the size lines without seam allowances to butt them together and then add seam allowance after the measurement is taken)
+ Determine base size that you normally sew with
+ Take measurements on both front and back pieces making adjustments at waistline and/or above and below
If you are using a pattern with a strap and the shoulder line isn't located anywhere on the pattern. Draft or locate the strap piece, and place the pattern piece on the pattern marking for the strap at your size line and measure from the middle of the strap. This just helps visualize if the strap will give you enough length, or there is too much length with the strap in play to make adjustments. Most of the time the jumpsuit fitting considerations can be done in the straps without doing these preliminary measurements and adjustments – but if you have an extra long or short torso then I would suggest measuring and adjusting the pattern before cutting.
Now that we know a little more about determining the correct length for a jumpsuit, let's look at some patterns!



Plus Size Midi Jumpsuit; Corset Linen Jumpsuit; Children's Jumpsuit; Linen Jumpsuit

Over the past year, these four jumpsuit patterns have been our most popular. But the GOAT (greatest of all time) is our…



Trumpet Sleeve Jumpsuit! Which I actually didn't know until I looked it up, and it was my planned jumpsuit make that I said so on Sew & Tell.
To start with if you know you are on the petite / tall size you can start with a corresponding pattern to make the adjustments easier – or maybe no adjustments at all! Check out the featured jumpsuit patterns for both size categories…



left: Short Jumpsuit; right: Boho Jumpsuit

left: Jersey Jumpsuit; right: Evening Jumpsuit
Excited about your next jumpsuit make? Here are some of my favorite runway jumpsuit looks from the Spring 2019 and 2020 collections…



left: Louis Vuitton (Photo by Peter White/Getty Images); middle: Chanel (Photo by Yanshan Zhang/Getty Images); right: DSquared2 (Photo by Victor VIRGILE/Gamma-Rapho via Getty Images)

It's all about the structured jumpsuit this season! To get this look try our new Boiler Suit pattern in a print, solid, or metallic.



left: Sunnei (Photo by Victor VIRGILE/Gamma-Rapho via Getty Images); right: Marni (Photo by Victor VIRGILE/Gamma-Rapho via Getty Images)

Also loving all the men's jumpsuit I'm seeing on the runway lately!
What is your next jumpsuit make?