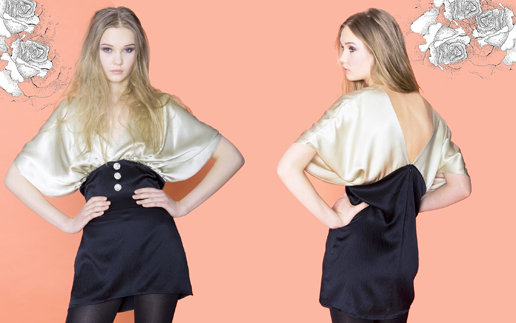 ShareThis
After the loss, which I mentioned in my last blog, I had what one may call a nervous breakdown. I spent the next couple of months in a fog of worry, fear and anxiety. I had just received my first huge wholesale order from Shopbop.com and while that was exciting, it was quite stressful indeed. Generally speaking, retailers place orders from design houses twice a year, in September & February (some design houses create "Resort" collections which fall in the off-seasons). I had received my order in September which meant I would be shipping it out in February. How was I going to pay for the collection to be produced after having my prospective capital stolen? I needed to buy hundreds of yards of silk & cotton, buttons, zippers, linings, and because of my own strong beliefs against outsourcing production to far-away lands (which spells injustice not to mention poorer quality of goods) I had to make sure my factory would take on such a task in a timely fashion, willing to be paid once I was paid (which can be months after you have shipped in some cases!).
Somehow, through an eclectic combination of monetary support from my family, emotional support from my boyfriend & friends, the book "Eat, Pray, Love" (don't tell) and pure fate, I was able to ship the collection to Shopbop on time and I actually made a good profit off of my first big wholesale account, which is virtually unheard of in this industry (and I was able to pay my parents back before my sister's wedding that summer, phew!)…maybe I priced my pieces too high? Or maybe I was just lucky. However, a re-order from Shopbop sent me on a much brighter looking path and provided me with some capital to create my next collection. I couldn't believe I had survived the tumultuous storm. I was elated. I want to zap to the present, now that I have shared with you a couple of experiences that have shaped where I am now and say that I have just signed with my first showroom in New York city and I am very excited to see what the future holds.
Shopping for a showroom is yet another daunting task. I have heard horror stories from my many designer friends who have worked with showrooms who just ate up all of their hard-earned money to come back with no sales, no effort, no support. I didn't want to make that mistake as well. I shopped around, I loved a very upscale, high-fashion showroom run by an unique family (from mother & father to daughters) be I couldn't afford their rates…I went to some uber-cool downtown independent showrooms which I loved the aesthetic but not the vibe…By chance, I was out one night when I ran into my friend Jeralyn Gerba from DailyCandy and she was with a woman whom, coincidentally, I had met years before at a Latin dance club in Brooklyn, and learned that she had just started repping designers & was opening a new showroom. One of her clients was an acquaintance of mine, Laura Dawson, whose career I had seen flourishing as of late. I asked around and people seemed to know about this showroom and the woman behind it and they said great things. I met with her, and after seeing how she adored my clothing, and also shared with me that she has been asking around about me as well & already had interested buyers, we sealed the deal. The showroom is in Nolita, one of my favorite areas of Manhattan, and seemed just right. We shall see what happens!