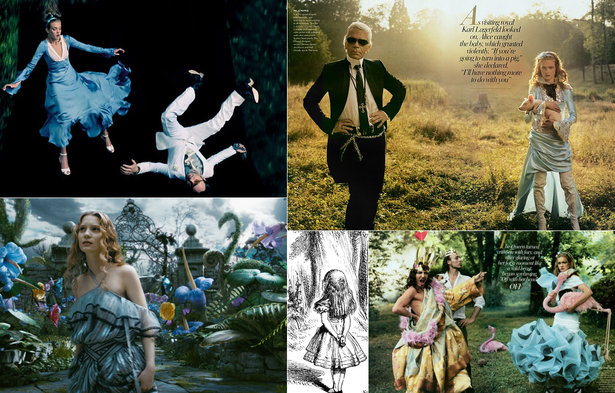 ShareThis
Has anyone been looking forward to the release of Tim Burton's Alice in Wonderland? I'm excited to see it myself- especially to see the costumes, Helena Bonham-Carter as the Red Queen and Johnny Depp as the Mad Hatter. I am patiently waiting for the crowds in Manhattan to die down a little first… In the meantime, a friend showed me the very first Alice in Wonderland film ever made, which was recently restored by the BFI and brought back to life from 1903!
With a running time of just 12 minutes (8 of which survive), Alice in Wonderland was the longest film produced in England at that time. Film archivists have been able to restore the film's original colours for the first time in over 100 years. -BFI National Archives

Alice in Wonderland quirks have always seeped into the fashion world and at the moment the Alice trends are more apparent than ever. Coinciding with the launch of the film artists like Tom Binns created an Alice line of jewelry for Disney Couture (weird right?), Parisian department store Printemps invited Alexander McQueen (RIP), Christopher Kane, Bernhard Willhelm, Haider Ackermann, Manish Arora, Ann Demeulemeester, Chloe and Maison Martin Margiela to invent one-of-a-kind dresses for window displays. Click here to see the slide show of these looks!