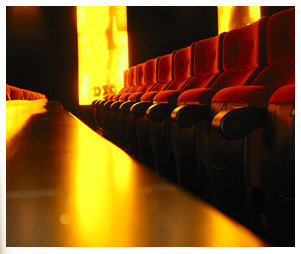 ShareThis
My little brother came to visit last week. "Little," because even though he's got six inches and easily 50 lbs. on me, he's also eight years younger. Our age gap includes a generation gap: I'm last gasp Gen X, my brother squarely Gen Y, and though you'd think having the same parents would erase some of the differences, well, it does and it doesn't.
For example: Unlike my brother, I can recall a time before the internet. Before cell phones. Before personal computing, 24-hour news and even before the wide popularity of VCRs. Sometimes I find it hard to remember that life, but if I dig I can come up with a few indelible memories. Sitting on hold with the airline, so my mom could bathe my brother before reserving a flight. The glamour of an afternoon at Marcie's house, the only one on our block with cable and, therefore, MTV. Staying home sick and blearily watching whatever soap or game show was on the channel Mom had cued up, because not only were there only three stations, but we didn't have a remote control with which to flip through them.
One upside of all this inconvenience, I see now, was a sense of community. There's nothing dumber than misplaced nostalgia, and don't get me wrong, I wouldn't sacrifice my MP3s or my Blackberry for anything. But the shared limits of American culture did mean there was an American culture: Certain things, everyone knew at least in passing, at least at some subliminal level. My brother has a hard time conceiving this. His life has coincided with the great breaking apart of the American conversation, and as we sat in front of my laptop one night, splurging on YouTube, I wondered if this new era of grassroots content augured a renaissance of community, one that bucks the '90s ethos of corporate homogeneity, or whether the infinite amount of stuff out there, in the ether, meant that our society could never be a remotely coherent thing ever again.
I bring all this up, post-fashion weeks, for two reasons. First, because fashion, like every other part of our world, has splintered. There's no longer a fixed star, fashion<\i>, outside of which every other way of dressing orbits. Any look that interests you is probably on some runway, and though the options may not be endless, they can be overwhelming. New York Fashion Week alone presented more shows than one person could see without the aid of cloning technology. Yes, certain ideas have more tractionagain in London, and somewhat in New York, late '80s Alaia was of interest; masculine notes were hit again and again; hats were big and so were the 1940s. Then again, Proenza alighted on the '20s, Prada portended some kind of bucolic, post-nature future, with greens redolent of astro-turf, Burberry went apocalyptically medieval, with belts on everything, and Raf Simons reasserted minimalism at Jil Sander. It's a fool's errand to try to isolate the season's key trends, and even if you try, more foolish yet to pretend your word is the last.
The other reason I bring up the lost era of American culture: Nearly all of this fashion week season has played out against the backdrop of Anna Nicole and shaved Britney. Both stories are unavoidable, unavoidable in the way you'd hope the war in Iraq would be unavoidable, but isn't, and unavoidable as tabloid news in general has been unavoidable for a while, only more so. I don't care about Kate Bosworth, so why do I know that she dated Orlando Bloom, which they broke up, that she got scary skinny, and that recently she put on weight? I can't name a movie she's starred in, but I know all this about her because much literally trivial Kate Bosworth data has been deposited into our one remaining vault of shared information: Celebrity. I wonder whether our love of celebrity gossip is a perverse reflection of our longing for public coherence, for national conversation.
If so, I think even this last holdout of mass culture is on its way to being over. The double assault of Britney and Anna Nicole must represent the natural end of the paparazzi era: For one reason, because the tabloids will never have it this good again, and for another, because both these stories are not only tragic in the condescending, synonym-for-"trashy" sense of the word, but also tragic in the word's dictionary meaning, i.e., sad. Britney melting down is sad; she has two babies, and that's sadder. Anna Nicole's corpse and child subjected to a custody disputesad, sad, sad, especially after the woman's life was so slavishly contoured to the public's appetite for revolting absurdity. People can't stop talking about either Anna Nicole or Britney, but for once alongside the cackles of amusement I hear acknowledgment of the human dimensions of these scandals. "That poor girl." "I just hope they do what's best for the kid." And so on.
And so, in a roundabout way, back to fashion. Yes, as noted, it's a fool's errand to decree "the trends." All you can do as an interested observer is point out what you see that's new, what appeals to you and what seems likely to have an impact on style outside the small group of people who attend runway shows. After a while, however, you may sense not a trend, exactly, but a mood developing over a season, one that hovers over all the shows that make you sit up and take notice. For Fall 2007, Fashion's collective advice is, as I see it, to get serious. The very best collections went farther. Marc Jacobs' show was all about accessories, and finishing a look, and its inspiration was retro; the Jil Sander story was subtraction. What connects the two is something larger and more abstract than a silhouette: Both shows felt adult. The maturity in the air echoed back to the red lips and coiffed hair at the models at Gucci, to the prevalence of sober grays and blacks and business-like woolens, to the season's key shoe, a practical brogue. Fashion this season spoke many languages, in other words, but it spoke with one voice: Grow the fuck up.
This week, BurdaStyle gets serious.<\i>