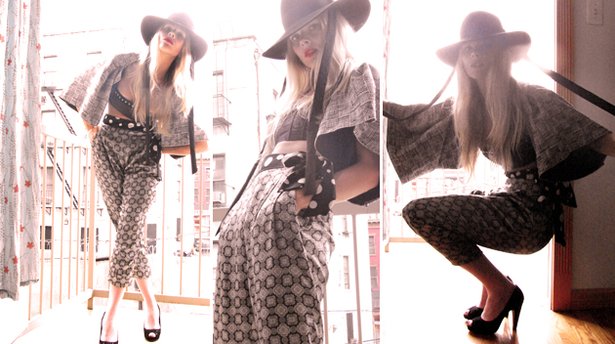 ShareThis
This past weekend I played dress-up with my dear friend Elissa. Elissa is a stylist extraordinaire, photographer and most recently a fashion designer with whom I used to live with in Florence, Italy. We have been taking photos together for a very long time, she even taught me how to develop photos with an enlarger in a little darkroom we created in a windowless bathroom in our flat in Florence.


Elissa knows what she wants to wear, how she wants it styled, and she wants her clothing to tell a story. She is not sure if she wants to be a fashion designer, if she'd want to do wholesale collections or even seasonal collections. What she does know is the feeling she wants to conjure up with these images, and these silhouettes are very important to her. The first step for her in determining what direction these creations will take her in was a photo-shoot.


This week I blogged for Etsy and came up with my Top Picks for Fall based on Etsy designer's products. As I was looking through thumbnails of pieces, I realized that there were some great products with some not-so-great photos, and because these images were blurry, far away, with heads cut off and strangely cropped, I couldn't really feature them.


I can't stress enough how important photos are, especially when you are trying to sell your clothing. The photos above were a test shoot really. Elissa wanted grainy, moody photos, and because she is not trying to sell a product with these images, the artistic direction is okay. Were were simply trying to define who her customer is.




Here are some tips for taking a self-portrait:


Use a plain background- a plain white wall is something almost everyone has access to.


If you don't have a model you can get a remote control for most digital cameras for under $20. It is definitely worth it.


You can get a decent picture from a simple point and shoot digital camera most retailing under $250. Camera phones tend to be blurry and can't get the detail across.


If you're posing yourself and are shy of the camera, look down or away. You can even set up a mirror behind the camera to see how you're posing.


Focus on the look you are trying to create verses how your face looks in the photo. I can't stand heads cropped out of photos- and no excuses, there are ways of getting around it! As we tend to be quite critical of ourselves, envision yourself as a character in this fashion story instead of yourself. Wear a hat, use a prop, put your hair over your face or look away and that cute shy little way.


Color correction, resizing and cropping out chaotic background noise are all important in producing a picture perfect photo. If you have Photoshop you can learn quite quickly by trial & error. Picknick works well too. When posting to the web make sure your photos are at least 650 pixels wide. I always set mine to 300dpi.


This website gets technical and shows ou which camera settings to use.
Good Luck!