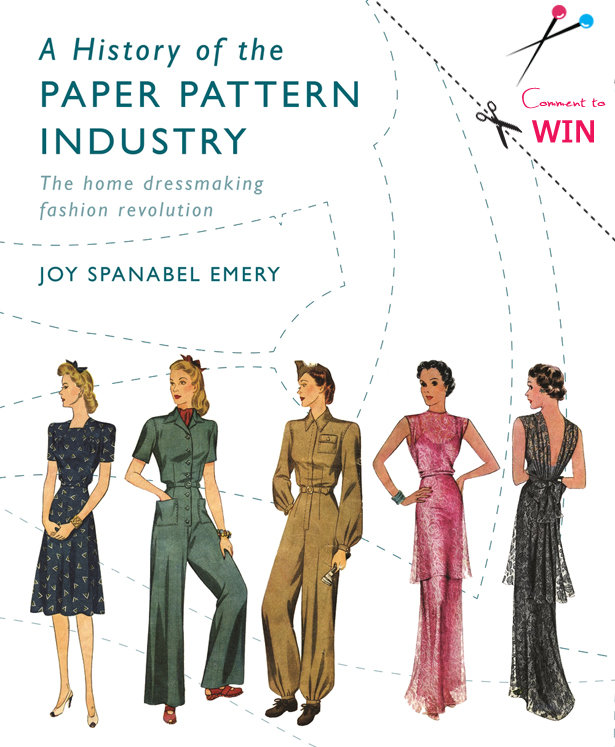 ShareThis
Do you spend hours rifling through vintage patterns in thrift stores? What about organizing your stash and poring over pattern illustrations? This new book is for you. Update: We have a winner! Congrats to Ladamaemily.
At Burda, we know what it means to be pattern obsessed. Digital patterns have made it easy to keep organized and find exactly what you need, but nothing compares to the thrill of finding a pristine 1950s dress pattern in your size for 50 cents at the flea market. You can always find inspiration in the stylized sketches, retro measurements, and innovative details. After all, paper patterns were THE fashion resource for decades!
Take a break from ready-to-wear and turn back the clock with A History of the Paper Pattern Industry. This book explores a timeline of innovation in pattern making, and how these patterns reflect the styles and tastes of sewers. Learn about early sewing machines, the influence of fashion periodicals, retail trends, and more! A History of the Paper Pattern Industry is highly detailed. The wealth of academic information comes along with 200 images. These illustrations are pulled right from packets and advertising, perfect for a glimpse into vintage styles!

Top Coat in Three Styles, Simplicity 1931, and Misses' Ensemble, Frock, and Jacket, Pictorial Review 1936
This is a book you'll treasure, and use as a resource for yours to come. You can even sew straight from the book. Nine original patterns are included from different decades, so you can make your own vintage recreations.

Misses' Blouse and Jumper Slacks, Advance 1942, Ladies' and Misses' Victory Apron, McCall 1943
Author Joy Emera is Professor Emerita of Theatre and the Curator of The Commercial Pattern Archive at the University of Rhode Island, USA, which electronically captures and records commercial pattern data as part of the "Save America's Treasures" project. It's an academic view of the pattern industry you may not have seen before.
Find the latest releases on fashion history and culture with Bloomsbury's newsletter. You can also stay up to date on their Facebook page or follow Bloomsbury on Twitter @bloomsburyfashn.
How do you store and organize your paper patterns? Tell us something about your stash for a chance to win this new book! The winner will be announced at 5:00 pm EST, July 4.
Update: This giveaway is now closed. Congratulations to Ladamaemily!