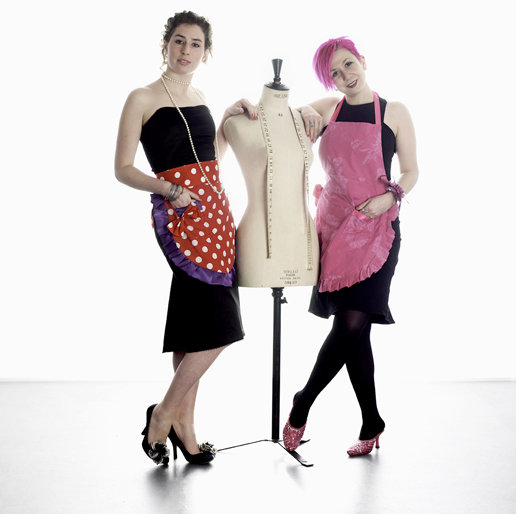 ShareThis
Has anyone ever partaken in classes/workshops offered at a sewing lounge? This week I'm focusing on 3 sewing lounges in 3 countries: Australia, England & the USA. Aside from sewing in a supportive community, sewing lounges offer tutorials on how to actually navigate through commercial pattern instructions (something we all know can be exhausting) and always offer beginner classes.
"'These Gals are getting London sewing' Amy Lamè BBC London"
Based in London, England, The Studio London offers an array of classes & workshops designed to fit any budget. Run by fashion designer Libby Rose and the multi-talented Beth Nicholas, they "offer this studio space for sewing and craft enthusiasts to learn and flourish in a fun, supportive social hub with lots of handy tips for aspiring designers".
The Studio London is currently bringing their expertise on the road to events & festivals, for more information click their link above or you can email them here: thestudiolondon@googlemail.com
Make is a New York city based workshop extraordinaire created by Diana Rupp, a creative writer and fashion designer who has also written the book SEW. Make is a craft school, design studio, podium for displaying your handy-work, supply source, etc. offering classes in, a-hem, shoe making, jewelry, fashion, embroidery, knitting, letter-press and more. It sounds like my college curriculum and it sounds like I may enroll in a class. For class schedules, click their link above or send Make an email: info@makeworkshop.com
Next we travel to Melbourne, Australia, to Thread Den, a "a one-stop shop for sewers who do not own their own equipment, or just need a space to work", a platform for classes, and rooms of vintage patterns and clothing for sale. Thread Den was created by 4 unique individuals all possessing a passion for sewing. "All our classes are facilitated by local designers and craftspeople currently working within the fashion and textile industry". If you're in Melbourne you're right in time for the re-launch party at Thread Den this Saturday the 4th April (12:00pm – 3:00pm). If you'd like to learn more about Thread Den, click on their link above or inquire here: adam@loveydoveydesign.com
Photographs 1 & 3 provided by The Studio London Thank you!
Do you know of a sewing lounge or group in your area? Email me and I will include it in a future sewing lounge feature: alison@burdastyle.com.