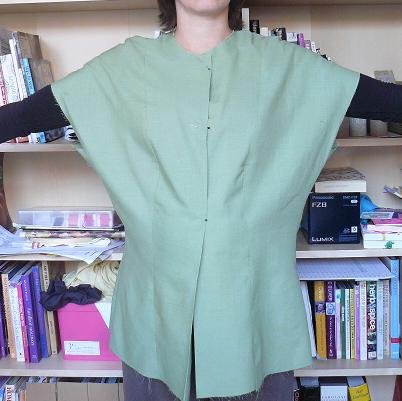 ShareThis
Am I glad I took my own advice from last week and made a muslin of Liz?!! According to my measurements a size 42 is the best size for me to make at the moment which is what my Shari dress was. So naturally I went ahead and cut out the size 42 pattern for the Liz blouse. I'm thinking this was a big mistake, it's HUGE!! How can one pattern be so different from another? Anyway, the muslin sort of fits around my bump but is just too big across the bust. I'm going to need to make a smaller size and go with the alteration I suggested last week, this size is just no good at all. Not only did I sew up a huge blouse but I sewed some of the pieces on upside down twice and needed to unpick and sew again. My brain seems to be in slow motion this week, I'm blaming the dreadful cold and cough I'm suffering from, I need to blame something right? Ugh. Do you have any advice for making this blouse?
I've worn my Shari dress a few times this past week and have received numerous compliments both in person and on my blog. I'm really pleased with how it turned out and I have decided (when I have worked out how to add an extra 4 hours to the day) that I'll be making more. I have added to my how-to. I have seen a number of other Shari's here on the site made for the Shari. I'm amazed at how different each one is from the other considering they come from the same pattern. Isn't it wonderful to be able to put your own spin on something and make it your own? Who wants to buy the latest trend from the high street when we can sew up our own clothes and alter them to suit our shapes and individual styles?! Check out Kallers 75c Shari, a true Refashionista if I ever saw one and she shares some modification tips too. Lacheen has made some changes to her fabulous polka dot Shari by changing the sleeves and adding ribbon and lace, so girly and romantic yet I think there's a little rock chick going on there too! And Juliamomo has given her version a classy look by using black silk fabric. A nice take on the 'little black dress' I think.
Are you taking part in the Lydia Sewalong? I'm hoping to take part and will most probably make the top as it is but with a bump alteration. Then once i know how it fits this way I may move onto making more from the same pattern but with different modifications.
Now, where is that measuring tape?