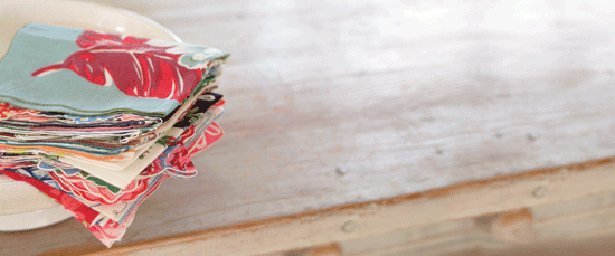 ShareThis
I'm an avid collector. Or, an obsessive collector, depending on whether you ask my family or not. I've happily come to terms with this part of me, although I can't say that the storage space in my house has in equal measure. As well, I have also come to terms with why I love to be a collector: I love the thrill of the hunt. I love finding a missing item from a collection, running across a Mary Brooks Picken's-related piece or finding something completely new that charms me from the minute I see it.
One of my favorite categories of items to hunt for and collect is hankies. They charmed me for years, even before I began collecting them. In that little square of cloth there is so much history and, more often than not, beauty. They transport me back to a simpler time and remind me of time spent with my grandmother, who always seemed to have one handy. They range from explosively colorful to daintily refined, delicate to utilitarian. This love I have for hankies eventually led me to write Hankie Style, my book that shows you how to turn beautiful hankies into modern, fashionable items – shirts and scarves, broaches and aprons, and so many more.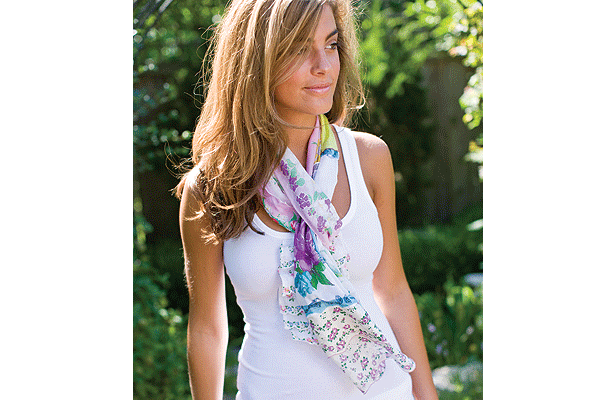 In today's post, I would like to give you some creative hankie options and answer the one question that looms over all sewers who collect hankies: after you've scoured antique shops, church bazaars, swap meets, Etsy and eBay, what do you do with the hankies you've found? With the up-cycling trend so very much in vogue, repurposing a hankie for a fashion project seems like a fabulous idea…until you remember that some of the hankies in your collection were from your very own grandmother, others too fragile to use. For the sake of this post, let's divide our hankies into two groups: hankies we would never, ever considering cutting up (Group 1) and and those we would (Group 2).
Group 1:
Just because you would never consider cutting them up, it doesn't mean they can't be repurposed. The first thing you should do is have them cleaned (if possible) and pressed. Next, color copy or scan them onto your computer. At this point, you can even touch up a hankie in Photoshop whose colors may have faded. You can then print them onto cotton fabric sheets using an inkjet printer. Let them dry completely and you're ready to sew!
Group 2:
If you've got some hankies ready to go, you have countless options available to you. From fashion options like scarves, t-shirts, belts and skirts (all available in easy-to-follow patterns in my Hankie Style book, to decoratives. Country Living magazine wrote a piece awhile back on "unexpected uses for vintage handkerchiefs." In it, one of their stylists used our scarves as a table runner. It was so lovely and really showed what you can do with the a few squares and little imagination.
If you're ready to dive right in with a hankie project, I just made an instructional video on how to make a floral brooch. It's a very fun "first hankie" project!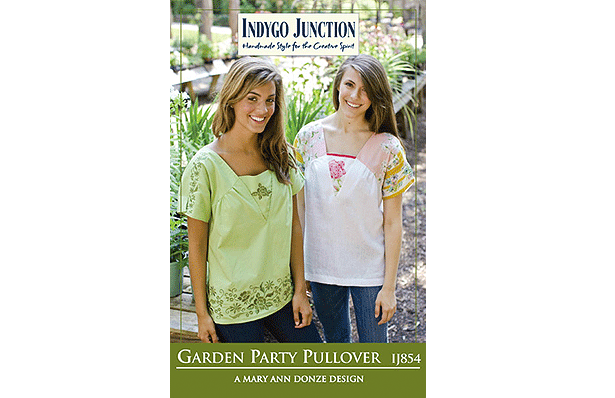 For those of you that love the look of hankies but just don't have the time to build a vintage collection, there are even options available for you. Over at my site, The Vintage Workshop, we have seventeen beautiful, hi-res hankie scans that you can print out on the cotton sheets I mentioned earlier. Another option, at Indygo Junction, are our sets of reproduction, 100% cotton, machine-washable hankies. They range from flower-themed hankies to a Western-themed collection to a nice floral selection. While you're there, you might also want to check out the Garden Party Pullover pattern (IJ854) that uses hankies for decorative treatments, sleeves and accents.
My advice today…take some time to discover hankies. Check with your grandmother and aunt, scour local thrift shops and see what you can find. You'll be glad you did. Hankies are one of those rare vintage items whose simplicity of design and history make the leap to meaningful, beautiful modern fashions and accessories easily.
To get you started, I'll reward one commenter with a copy of my book and The Bouquet of Flowers Hankie Set so you can make the floral brooch project yourself.
Thanks again for letting me share my vintage life and loves.
~ Amy
Amy Barickman is the founder and owner of Indygo Junction, The Vintage Workshop and AmyBarckman.com. She is a leader in the sewing, needle arts and retail crafting industry having sold more than two-million sewing patterns and published 80 books sold throughout the world. Her recent endeavor is the book "Amy Barickman's Vintage Notions: An Inspirational Guide to Needlework, Cooking, Sewing, Fashion and Fun", is already on its third printing since its release in September of 2010. Other best-selling titles include: "Indygo Junction's Button Ware" and, most recently, "Hankie Style".