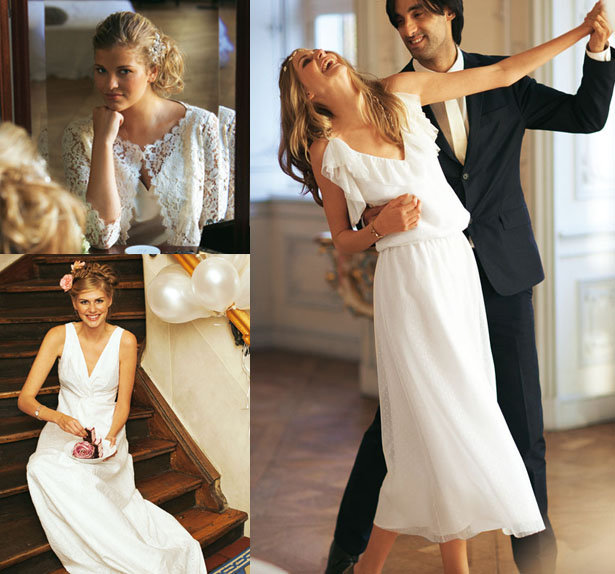 ShareThis
Are you a bride considering whether or not to design and sew your own wedding dress? This week, we bring you a selection of sewing patterns (including plus size styles) perfect for the modern bride and highlight inspiration from both the runway and BurdaStyle member studios to help you get started.
What the bride wears sets the tone for the wedding and ultimately, everyone else's attire. Similar to many brides who sew, I decided to design my own wedding dress (it was almost expected of me!), so the pressure was definitely on. Here are a few things I learned along the way:

1. Try on a few different styles to get a sense of what silhouettes work best for your body type.
Even though you may be dead set on DIYing to your heart's content, don't be shy to explore what's already out there. In my mind, trumpet and sheath shapes were out of the question, so I knew I would end up somewhere between an A-line or ball gown silhouette. But, I was still undecided on my neckline. I was almost certain I would do an illusion neckline with lace, that is, until I fell in love with another neckline that wasn't even in the initial running because I assumed it would look horrible on me – a strapless corseted bodice with a sweetheart neckline.

2. Keep your fabric swatches handy.
When shopping for accessories such as your veil and shoes, it's helpful to have a reference point leading back to your dress. Having your swatches on hand may also help alleviate some indecision and prevent trips back and forth, or even worse, an ill-suited impulse purchase that is, most likely, nonreturnable.

3. Know your whites.
If you are going for a white dress, like most brides, be aware that there is a range of hues from stark white (the brightest) to champagne (has subtle pink undertones, but can look white in photos). The difference between a diamond white (soft, natural off-white with no yellow undertones) and ivory (can appear creamy with yellow undertones, or just as a subtler white) may also be difficult to detect at first glance. My heart was set on a beautiful French dotted flocked tulle for the draped layers of my dress, but it was a brighter white than my ivory silk shantung base fabric. To offset the whiteness, I found an eggshell nylon tulle to layer between the two fabrics in order to neutralize the tones.

Here is a selection of burda style magazine bridal sewing patterns new for 2012:




From left to right: Knot Front Wedding Dress, Ruffle Wedding Dress, Cowl Wedding Dress, Princess Wedding Dress (in plus size), Lace Wedding Dress




Let them eat cake! This gorgeous floor length wedding dress sewing pattern (Knot Front Wedding Dress 03/2012 #108C) is my absolute favorite. I love the knotted front detail!




Ready to hit the dance floor! This boho chic sewing pattern (Ruffle Wedding Dress 03/2012 #103) has a great relaxed fit, complete with pretty neckline ruffles and spaghetti straps to shimmy the night away.




Keep it short and sweet. With the right fabrication, this simple sewing pattern (Lace Wedding Dress 03/2012 #102A) can be elegant and chic. The short hemline is perfect for highlighting scalloped lace edges.




Keep it classy. This lace bolero with three-quarter length sleeves is the perfect addition to your bridal look, especially for when it gets chilly out. In addition to lace fabric, this sewing pattern (Lace Bolero Plus Size 02/2012 #136) could also work great in other fabrics to complement your wedding dress fabric, such as silk shantung.




For the traditionalist. Classic and feminine, this floor length wedding dress features a lovely cowl neckline and waistline seaming. This sewing pattern (Cowl Wedding Dress 03/2012 #104) also features a gorgeous back detail with covered buttons.



Be the belle of the ball. Turn heads in this sleek and sultry floor length wedding dress. This sewing pattern (Princess Wedding Dress Plus Size 02/2012 #133) features seaming around the bust and waist to flatter your curves.

A few looks from the runway to inspire you, starting with some lovely lace details and ball gown silhouettes from the 2013 Marchesa Bridal Collection….



Photos by Peter Michael Dills/Getty Images Entertainment


Slimming silhouettes from Monique Lhuillier (left) and Marchesa (right)…



(Left) Photo by Will Ragozzino/Getty Images Entertainment, (Right) Photo by By: Peter Michael Dills/Getty Images Entertainment


Loving these youthful and modern shorter silhouettes by Vera Wang (left) and Marchesa (right)…



(Left) Photo by Bryan Bedder/Getty Images Entertainment, (Right) Photo by By: Peter Michael Dills/Getty Images Entertainment


Here are some inspiring looks created by our very own BurdaStyle brides…




Member itetein (left) from Finland sewed her own wedding dress using a burda style magazine pattern from 2008 and accessorized her look with a crocheted belt handmade by her grandmother about 20 years ago. The fluttery sleeves and front keyhole make this such a romantic look! Member mh3650 (right) from Australia was inspired by the 1950s and drafted her own sewing pattern from scratch. What a great choice in selecting the French Alençon lace for the bodice!



Tokyo-based member Vivat Veritas not only has an impressive BurdaStyle studio (with 152 projects!!!), but I'm also loving her bridal creations. She helped a high school friend create a strapless sweetheart neckline wedding dress with a back bow detail made of organza (left) which looks absolutely dreamy. I'm also loving her variation of our Tara top, which she turned into a dress (right) with a midriff cut-out. This ethereal look would be great for engagement photos, or also serve as a wardrobe change post-wedding ceremony.

Lastly, here are some old favorites from the burda style magazine archives that remain timeless…





(Left) Strapless, Tea Length Wedding Dress 03/2011 #101A, (Right) Strapless Wedding Gown 03/2011 #101B

Happy sewing (and wedding planning)!


Jamie Lau is BurdaStyle's Editorial and E-commerce Manager and the Co-Author and Lead Designer of the forthcoming book BurdaStyle Sewing Vintage Modern: Mastering Iconic Looks From the 1920s to 1980s. A self-taught seamstress, she now designs for her eponymous fashion label and teaches sewing courses in New York City, where she resides.