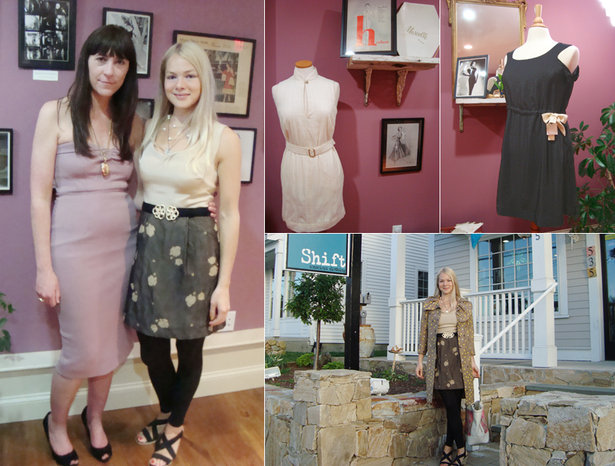 ShareThis
"French fashion designer Renee Marciel once graced the walkways of the international fashion world. Marciel was known for sophisticated designs with a daring dramatic twist—think Audrey Hepburn in leggings beneath a Chanel dress, or Jackie Kennedy in an off-bias jacket over a short straight skirt. " Today, few people know Marciel's name or her contributions to American fashion, but last weekend on Cape Cod (where Marciel would summer), Shift boutique owner's Amy DuFault and Amanda Converse paid homage to this talented woman.
One day not so long ago the step-daughter of Renee Marciel contacted my friend cum collaborator Amy DuFault, 10 years after her step mother's death. "Lisa Conrad discovered a virtual treasure trove of Marciel's life: sketches, photographs, love notes, look books, and vintage fabric swatches, all resting in an oversized basket." She had no idea what to do with them. After sifting through the hidden gems of Marciel's past, Conrad, DuFault and Converse decided to pay homage to Marciel, and an exhibit in Shift boutique was the answer.

DuFault gave me a few photographs from Marciel's 1940s look-books and asked me to choose two pieces to reproduce for the exhibit, which would be available for special order through her boutique. I chose a sleek black cutout dress and a striped shift dress and modernized these looks for today's silhouette.

To honor Marciel, Shift boutique hosted a cocktail party last Saturday evening, filling a room with photographs, letters, sketches and the two updated Marciel looks, for onlookers to steal a glimpse into her interesting life. It was quite touching to see the hand-drawn sketches, letters and trinkets Marciel had acquired during her lifetime and I hope she would be proud of the exhibit.

Pictured above from left to right: Amy DuFault and myself, the Shift Dress, the Cutout dress, me outside of Shift boutique in my Polka Dot Coat and dress I designed for the event, the coat which you can make for yourself!

Read the full feature on Renee Marciel written by Amy DuFault in Cape Cod Life Magazine.