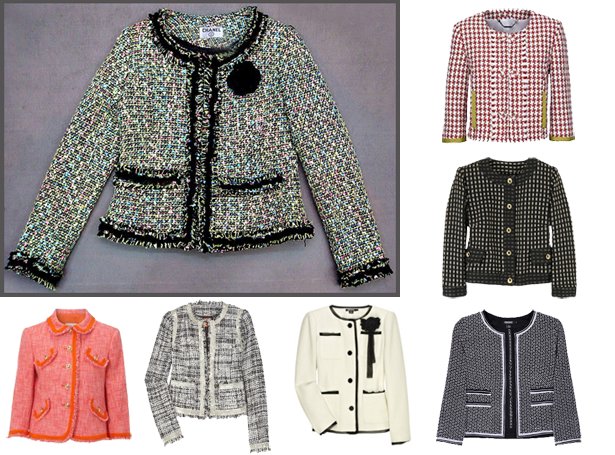 ShareThis
Ok, let's start with a cliché: Chanel jackets are one of the most coveted garment pieces for women all over the world. Check! Their Haute Couture versions reportedly sell for some $30,000, while a ready-to-wear version sells for around $5,000 and up. Check! It inspired countless imitations, by runway designers as well as home seamstresses. Check!
Pictured: The jacket that spawned a thousand copies – a Chanel tweed next to jackets by the likes of Marc Jacobs, Milly and Tory Burch which have obviously been inspired by the original.
While an Haute Couture version remains unaffordable for most of us (right?), I was keen to find out more about techniques used in the construction of the legendary garment. And more, I wanted to make my own Chanel-inspired jacket! So, after reading every available article or book on the subject, watching movies and combing the web for bits and pieces of information, I decided to join a Classic French Jacket Class by Susan Khalje, the author of a sought-after Bridal Couture book, a contributing editor to the Threads magazine and the founder of the Couture Sewing School.
Just get on with it!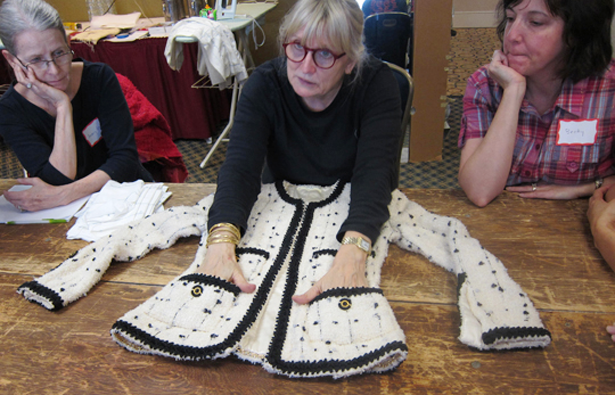 Susan demonstrates a jacket she made for the Threads Magazine feature 'Inside a Designer Jacket', Issue 121, November 2005
The good news: the jacket (even using couture sewing techniques) is easy to construct.
The 'bad' news is, it takes 70 to 80 hours to make it! It's a lot, even for sewing nerds like myself, and perfectionists alike, but I like to think of it as a timeless wardrobe staple that I can wear for many years – completely worth the time investment. Don't you have a few pieces like that, pieces that you've been wearing for five or ten years and are still in love with?
That's what I was thinking when I joined the class, which covers the entire process of sewing of this classic French cardigan jacket, from the fabric selection to the trim. Twenty-six steps and seven pages of Susan's instructions separated me from the dream. By the way, she sent them to us only after the class was over! "If you saw them now, you would freak out," she told us on the first day.
In other words, a journey of a thousand miles begins with a single step. Susan guided us through the process so skillfully – we haven't noticed how the six days passed. So, no fear, friends – just get on with it!
It all starts with great fabric and matching trim!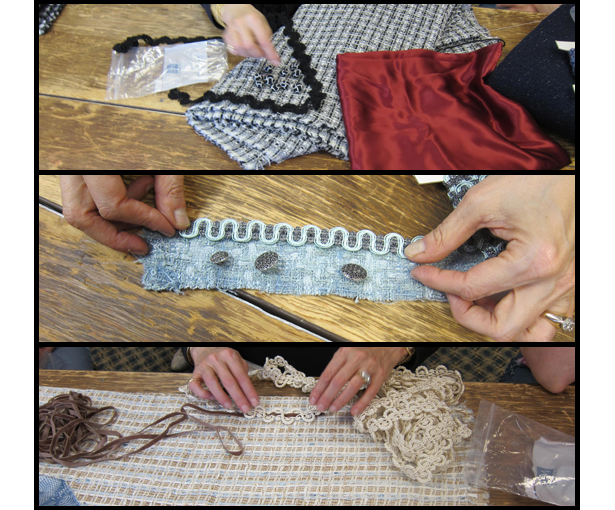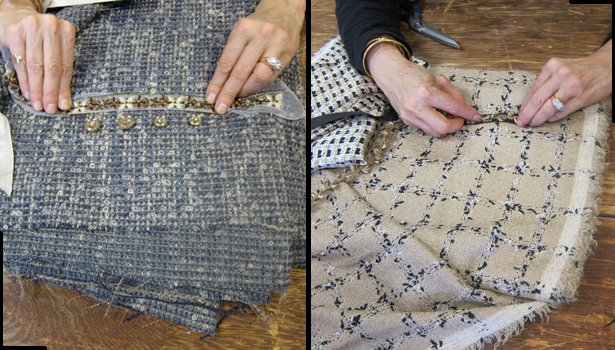 Show and Tell session: class participants show their fabrics and trims
Bouclé is the most classical choice for the jacket. Look for interesting texture and color. There are so many beautiful bouclé fabrics out there, in casual or dressier options. Choose wool for cooler weather, or silk for warmer days. Use silk charmeuse or crepe de chine as your lining choice.
My tip: if you want to avoid matching work (for you would want this unique jacket to be meticulously matched), go for fabric with less obvious pattern. Also, wool is more forgiving than silk, especially when setting-in the sleeves.
Bring your fabric to a trim store and see how the fabric-trim combination looks as a whole. Trim can make or break the jacket. A false choice, and your jacket may end up looking like an upholstery refashion project. Watch Chanel or other designers' fashion shows for some inspiration.
The fit is the key

Participants queuing for fitting with Susan
This is probably the most challenging part of the project, but also one of the most important ones. Don't just whip it up! Really, make a test garment (or toile, in French). Fit the toile. Fit the bodice in fashion fabric. Fit the sleeves. Fit again, to determine the hem and the sleeve length.

After the bodice is fitted, alteration lines are thread-traced in a different color
A Chanel jacket signature technique – quilting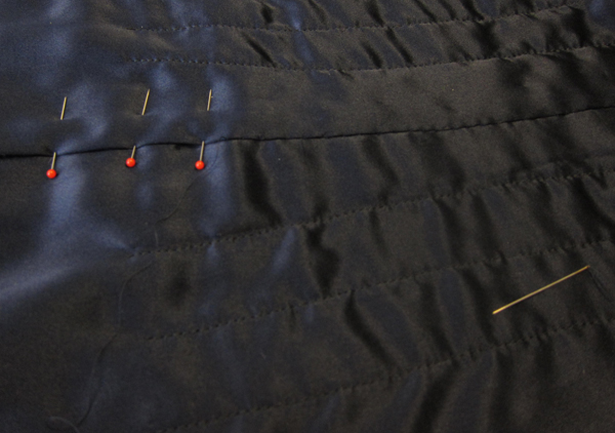 Quilted portion of the jacket bodice
Why are these jackets quilted? The answer is simple – loosely woven fabrics need some support and structure to maintain their shape. When I heard about this technique for the first time – I thought interfacing would do the job as well… Quilting seemed to be more of a couture gimmick to me. How I was wrong! A quilted jacket feels so soft and luxurious!
If you have doubts about making your own jacket, please, just try the quilting technique only: quilt a small square of boucle and silk charmeuse using straight stitch rows, approximately 1 inch apart (or, follow the lines of your fabric pattern). Touch it – you will see what I mean!
Set-in sleeves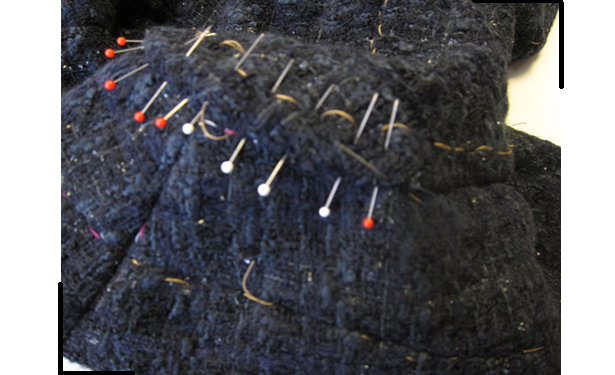 Here, pins stabilize the upper half section of the sleeve before it is sewn on
When I started working on my sleeves, a classmate told me: "Did you know, it takes seventeen hours to set-in the sleeves in a couture jacket?" My first reaction was – no way! I was keen to prove that it's possible to do it faster and was extra conscious of time. Seventeen hours (or very close) it was!
Sleeves are sewn-in entirely by hand and the reason is – control. First, the underarm section is sewn-in and overcast, and then, the upper half section is shaped and sewn using tiny fell stitches. The more your fabric lends itself to shaping, the easier will the job be.
The chain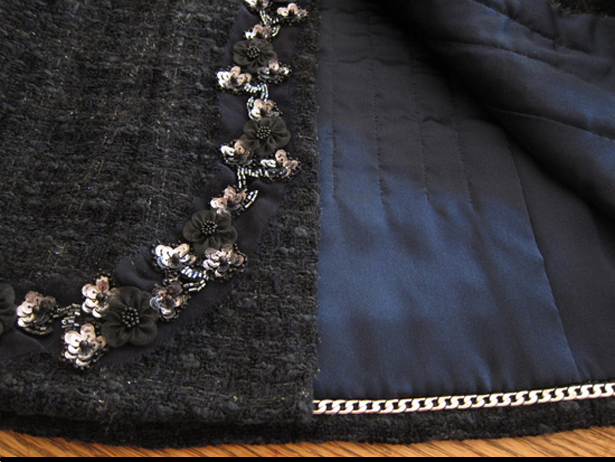 Chain balances out the weight of the trim on the front, and helps jacket hang smoothly
Once the jacket is assembled, the trim is sewn on and all the edges are cleaned up – it's time for the famous chain. It is added just above the hemline and helps the jacket hang smoothly.
Finally…
I realize that this project is not for everyone – but even if you use just one of these techniques, it will lend your jacket that very special feel that we are all after as seamstresses or designers.
Finally, Susan wanted to share with you, BurdaStyle readers, some tips that you can use in your everyday sewing. Here they are…
Susan's Tips
Use pins as a stitch – insert pins perpendicular to the seamline as close to it as possible. This will ensure minimum shifting of the fabric layers, and often eliminate the need for basting.

Pins inserted 'as a stitch' often eliminate the need for basting
Twisting thread – sometimes, when you are handsewing or basting, the thread twists and forms a knot – very annoying! In most cases you can see when it's going to happen; so, when you just pull out the needle out of the fabric layer, roll the needle between your index finder and the thumb to unwind the twist.
Wax your thread – use double-strength of waxed thread to set-in sleeves by hand or to sew on a chain or buttons. The wax provides additional strength and prevents thread twisting. Thread the needle, pull the thread through the beeswax and press it to blend the wax with the thread. Wax several threads at once to save time.
More resources:
I highly recommend these two articles for more details on the techniques used for the construction of Chanel-inspired jackets. They are available as a part of Threads Archive CD, which can be purchased on the publisher's website.
• Inside a Designer Jacket (Susan Khalje, Threads, Issue 121, November 2005)
• Master Class: Setting a sleeve by hand (Susan Khalje, Threads, Issue 122, Dec 2006 – Jan 2006)
• Check out Susan's website to find out more about her Couture Sewing School and the upcoming classes
• For inspiration, visit the Chanel website.
• And, finally, do watch Signé Chanel – a great documentary on making of Chanel couture collection. It is available from the French Amazon site, if you have a multi-region DVD player.
~Marina
Check out Marina's blog, Frabjous Couture, for a day-by-day report of the Classic French Jacket Class and images of her finished jacket!