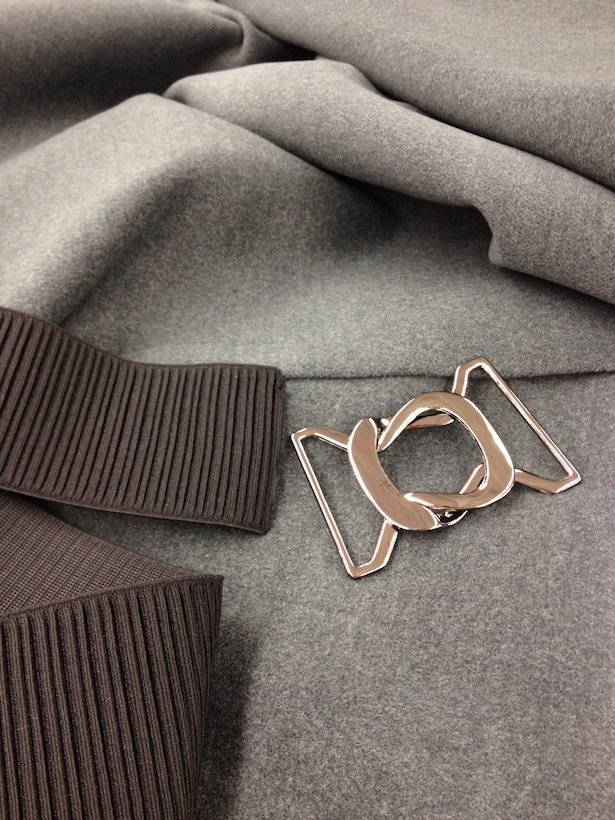 ShareThis
We're in the second week of our first Burda sew-along.
Are you joining us for our very first BurdaStyle sew-along? Here's the beautiful coat we're making.
This is the second week of the sew-along, and by now, you should have the PDF pattern pieces printed and assembled, and you should have your fabric purchased. (Haven't done that yet? It's not too late! Read our Week 1 instructions and catch up!) If you're lucky enough to live in a climate that doesn't demand a winter coat, first of all, can I move in with you? And second, consider my sister's great idea for fabric: sew this jacket out of sweatshirt material, and use it as a quick cover-up after yoga class.
I chose this grey 80% polyester and 20% rayon coating (above) that looks like a brushed wool. Best part? It's machine washable! And it was only $12/m, compared to a similar wool I saw at the same fabric store that was $38/m. EEK! I also wanted to make a belt, and instead of buying a contrast fabric, I found this black, wide, ribbed elastic and silver closure. I figured the elastic and closure would make the perfect belt for this jacket plus save on my cutting and sewing time!
So this week, let's take things one step further. Here's what to do…
WEEK TWO ASSIGNMENT: Pre-treat your fabric (if needed), cut out the individual paper pattern pieces, and cut and mark your fabric pattern pieces.
And don't forget: PDF patterns downloaded here on BurdaStyle.com DO NOT include seam allowances. Add a seam allowance to your pattern pieces before cutting your fabric. (Although one BurdaStyle member made this jacket without an added seam allowance because she didn't want it quite as loose. I might do that.)
As a side note, 3.4 yards seemed like a lot of fabric to me when I purchased it. Did anyone else notice that? I'll have to see what happens when I cut out my pieces. I may be able to make a second garment. That was my only challenge and comment on last week. Do you have something to share about your experience with the sew-along so far? What fabric did you choose? Do we have any Burda newbies sewing with us? If so, how was printing the pattern? Easier than you'd think, right?