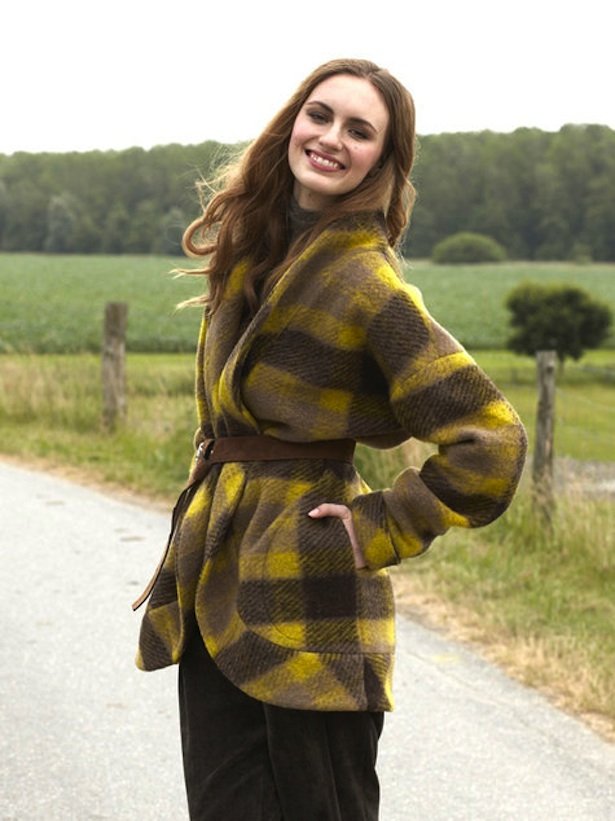 ShareThis
BurdaStyle's first sew-along begins with this simple jacket.
Welcome to BurdaStyle's first sew-along! Confused? A sew-along's like a book club, but with thread and fabric. Together, we're going to sew a new project every month. Join when you can. Skip when you want. This is a no-pressure environment! It's all about sewing, fashion, and fun! I'll guide you through weekly updates with tips, suggestions, etc., and I invite you to do the same in the comments below.
Let's begin! I'm hoping we can bring some new blood to BurdaStyle patterns, so I've chosen a pretty basic pattern. Plus, I want to make sure we all have success with each one of our finished projects. (Know someone who's never sewn a Burda before? Invite them to our sew-along! This is the perfect starting point for them. The more the merrier!)
The pattern I've chosen for our first sew-along is this jacket above, called Plaid Jacket. I'm not really a plaid girl, so I'm not going to be using plaid fabric, but you might want to for yours. (Total side note: Ever wonder what the difference is between tartan and plaid? The truth may surprise you.)
Let's do our sew-along check-in on Sewing Sundays. And because this is an easy pattern, completing it in a month will be very doable, even for those with a super busy schedule. If you're participating in this month's sew-along, your assignment this week is to download and assemble the PDF pattern pieces, print out the pattern instructions, and buy your fabric and notions. (To me, the belt is what makes this jacket. So I'm going to buy extra fabric so that I have enough to also make a belt.)
So, are you ready? See you next Sunday with the pattern and fabric in-hand! (And comment below with your tips for this week's homework. This sew-along is a collaborative process. We want to hear your suggestions, your ideas, your insight!)
WEEK ONE ASSIGNMENT: Download and assemble the PDF pattern pieces, print out the pattern instructions, and buy your fabric and notions.
If you're new to BurdaStyle patterns, here's a detailed how-to of this week's homework…
1. Download and assemble the PDF pattern pieces:
• For each digital BurdaStyle pattern, you'll find a pattern web page. Here's the web page for the Plaid Jacket pattern. Click the "Add to cart" link on that page, and proceed to the checkout in order to download the pattern piece PDF. The number of pages within the PDF will range, but most patterns are between 30 and 40 pages. When you purchase a BurdaStyle" pattern, you'll be permanently save the pattern in your BurdaStyle profile, so don't worry about ever losing it.
• Once you've checked out and you have the pattern piece PDF on your computer, print only the page that has the Test Square. Print it on 8.5" x 11" paper, making sure you're printing at the PDF's actual size. Measure the Test Square to ensure you're printing everything to scale. It should measure 4" (10 cm).
• Once you've confirmed that your Test Square has printed properly, print the rest of your pattern PDF pages following the guidelines above.
• Lay the pages out on a large, flat surface, matching the triangles, numbers, and letters at the edges of the pages. (For example, match 1a with 1a, 1b with 1b, etc.) Tape the pages together until you've assembled the entire PDF.
Note: Burda patterns available as free digital downloads do not include seam and hem allowances. 5/8" (1.5 cm) is recommended for seams and 1 1/2" (3.8 cm) is recommended for hems. Instructions may indicate otherwise, but if not, this is the standard.
2. Print out the pattern instructions:
• While on the pattern's web page, click "Click here to download" underneath the Instructions PDF heading. This will open the pattern's instructions in a new window of your browser. Here are the instructions for the Plaid Jacket. Print these out.
3. Buy your fabric and notions:
• On the pattern's web page, you'll see the fabric requirements under the heading "Amount of Fabrics". No closure is used for this jacket, so the only notion you'll need is thread. (Unless you're doing a belt with a buckle, in which case, purchase a buckle as well.)