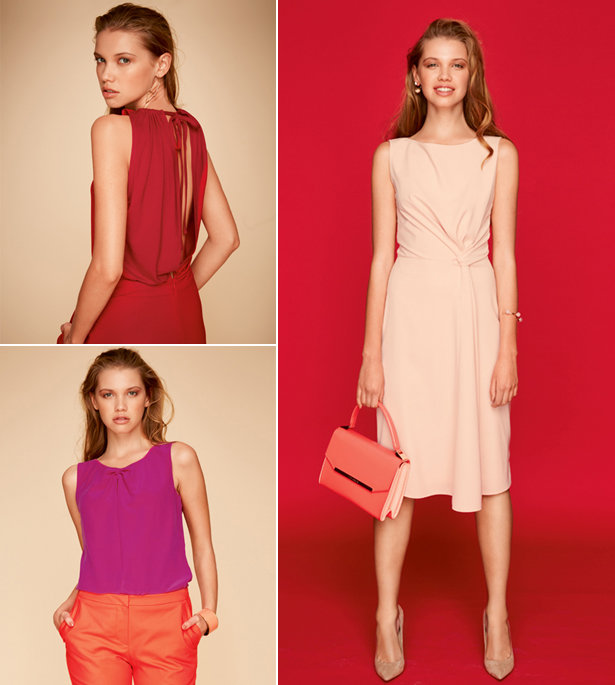 ShareThis
This new collection from the April 2016 issue of BurdaStyle features 10 feminine sewing patterns for women in shades of vibrant pink. These key pieces are pure perfection for fashionistas ready to take the limelight. Sexy drapes and sensational colors that make a statement in vibrant shades of pink, orange and coral are a testament to fashion self-confidence. Tones of warm gold and rosé jewellery add just the right accent.
Click on the pattern image to go to the pattern store page…
These chic cigarette trousers can be worn all year round! They feature hip yoke pockets with little flaps.
This fun jumpsuit features a drawstring that goes around the neckline and reveals a sexy cutout. The trousers are cut wide and trendy.
Delicate gathers at the neckline as well as a keyhole cutout offer sweet details to this simple tank top.
This beautiful dress is flowy and perfectly feminine! It's made using a silk material and features pleats on the front part and a longer hemline in the back.
This tank top has a waterfall neckline that is created by loops of fabric around the neck.
A stylish alternative to the little black dress! The front knot forms a lovely feminine figure and the skirts swings.
This lovely shift dress is sewn using a double jersey so that it falls perfectly on the body.
This beautiful jersey dress features an attached loop around the neck that makes an interesting cowl. The silhouette is nice and fitted!
The ultimate dress for a outdoor summer party! The tight bodice features a plunging neckline and the skirt flares out to the floor.
Simple yet beautiful! This flowing caftan dress features three quarter length sleeves and side slits for improved flexibility.
Get all the patterns in this collection here at a discount!.
Happy Sewing!