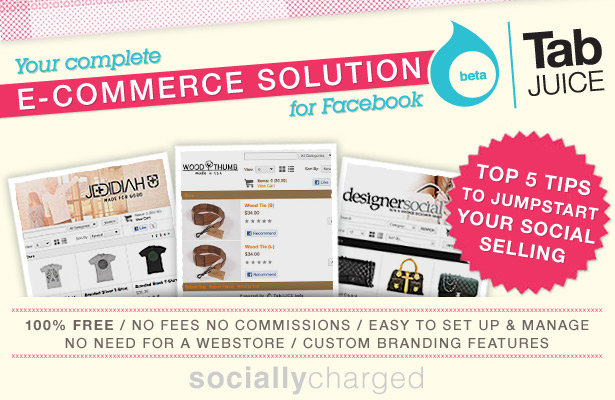 ShareThis
If you're not already familiar with TabJuice, you should be. It's a great way for you to create your own online store using only the (free!) TabJuice app and your Facebook page. They call it social commerce, we call it genius!
Added benefits to setting up your store through the TabJuice platform are that you have access to your friends, fans and potential customers through the power of Facebook's nearly 800 million strong user base, and TabJuice doesn't charge you for a thing – no fees for using the app, no fees for posting your products and no fees when you sell. You really can't argue with free…
So, ready to get started? Good, because the folks at TabJuice pulled together their Top 5 Tips to help you jumpstart your social selling power!
1. Set your Storefront (a.k.a "Shop Now") Tab as the default landing page on your Facebook page.
To do this simply log-in to your Fan Page go to Edit Page, Manage Permissions, and set Default Wall Tab. This will make sure that your store tab is the first thing friends and new fans see when they come to your page.
---
2. Post a personalized comment on your Facebook wall announcing your new storefront.
Make sure to include a picture of the best product from the new store in your post, and mention to friends and fans to keep checking back for special deals.
---
3. Set up a TabJuice promo discount for Facebook fans only.
Go to the TabJuice Dashboard, click on the PROMOS tab, "Add a New Promo" and continue through the prompts. Once your promo is set, make an announcement about it on your wall so fans know about your special offer and that it is for a limited time through your Facebook storefront.
---
4. Include your Facebook Page URL in your email signature and other business contact information with a strong call-to-action.
Example:
Jane Smith
Owner, Smith Patterns
Find your favorite vintage looks for 50% off in our new Facebook Storefront!
VISIT: http://www.facebook.com/smithpatterns
FOLLOW US: http://www.twitter.com/smithpatterns
---
5. Make use of the Social Sharing buttons. Tweet and Recommend!
Get your fans and friends to visit your storefront and pick out out their favorite product. Have them click the Tweet and Recommend button to share the product on THEIR own Facebook wall. Also, have them write a short post to go along with it telling others about what they like about the business and products.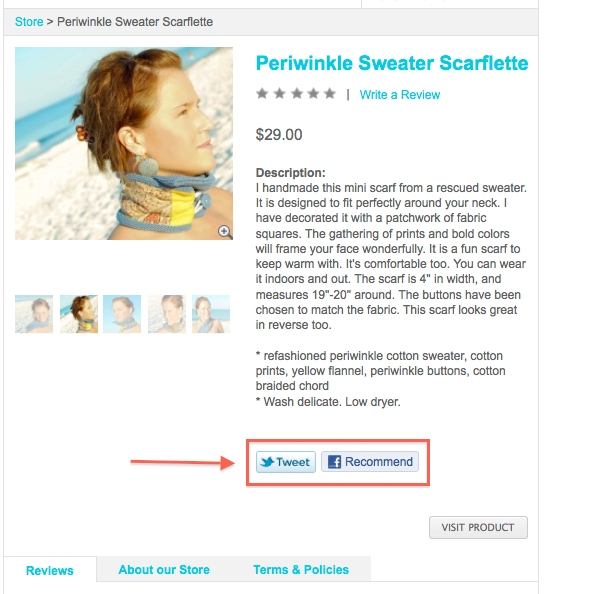 Special thanks to TabJuice's Social Media Manager Kayleen Webster for pulling together these great tips for us, and make sure to stay tuned for more info from the TabJuice crew to help you get the most out of your social commerce experience!