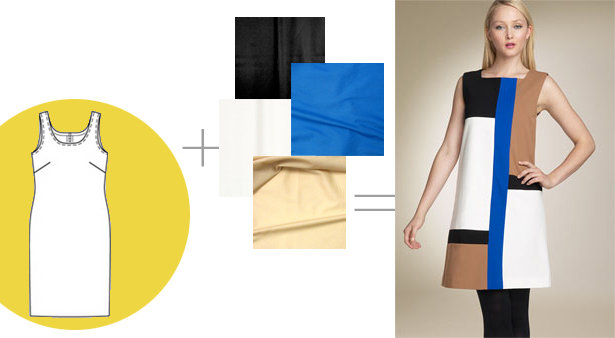 ShareThis
The five new patterns featured in this article are simple yet elegant, chic and understated. They are perfect patterns for beginners, but experts could be equally inspired to embellish them further, like all of my examples featured within this article. Read on to see them all!
Mondrian (pictured above): Mondrian, an important contributor to the De Stijl art movement, has been quite an inspiration to fashion designers. The first to come up with a reinvention of his famous Composition II in Red, Blue, and Yellow, 1930, was Yves St. Laurent with collection of limited edition Mondrian pieces in 1965. If you want to make your own (like the DVF shift dress above) try sectioning off this basic shift dress pattern into geometric sections, add seam allowance, and multi-colored fabric!




Factory Girl: For beginners, this simple shift dress with inseam pockets would look great in solid leather, silk or cotton shirting— but take it a step further by cutting the pattern from gold lame or mesh like the Robert Rodriguez metallic dress above!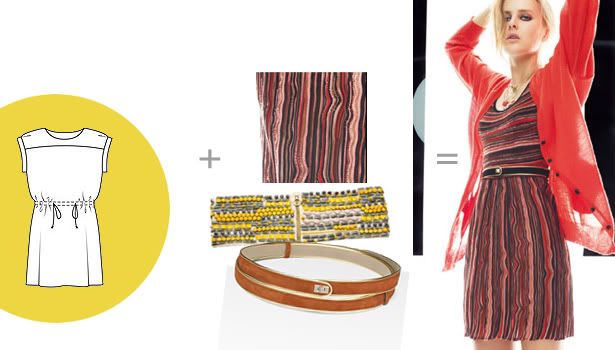 Hippy Chic: A simple shift dress w/ties can be completely transformed into something more texturally rich, like the Missoni dress above, by using a vibrant woven fabric. Accentuate the waist with a fun belt too!




Embellish It: A simple shift dress can be transformed into a See by Chloe look-alike by embellishing this shirt dress with patch pockets with beads, sequins and trim.




Pop: Make a Spring coat that pops with this simple template, by cutting the pattern out in a vibrant damask or jacquard. Make a matching dress (from one of the patterns above) in a complimentary color for an eye-popping ensemble.