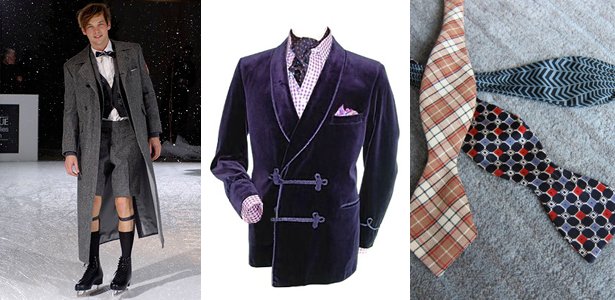 ShareThis
Readers, nothing lasts forever, even in the relatively stable world of men's fashion. I categorize most of the garments below under "Going, Going, Gone," and store a few in my top-secret "Good-bye and Good Riddance" folder.
I share them with you today gladly, but please note: if you or someone you love is still hanging onto and arguably enjoying one of the following garments, please exercise compassion: men's emotional connection to garments that have outlived their usefulness is complicated.
So here it goes…
Friends, once again we must make an example of the very quirky designer Thom Browne (yes, that "Holiday on Ice" outfit is one of his creations). Sock garters, if you've never heard of them, were once worn by men to keep their socks up. They also tended to cut off circulation to one's feet. They fell out of favor for one obvious reason: the invention in the 1950's of synthetic stretch fibers like spandex, which tolled the death knell for so many (saggy) fashion favorites. Let's grieve and move on.
Perhaps you or your man likes to indulge in a puff of tobacco now and then. Once upon a time this was a pastime enjoyed by a majority of men and women but alas, no longer. So it should come as no surprise that the beloved smoking jacket is going, going, gone.
I don't doubt that there are a few fashion eccentrics out there who will cling to their smoking jackets and I say live and let live.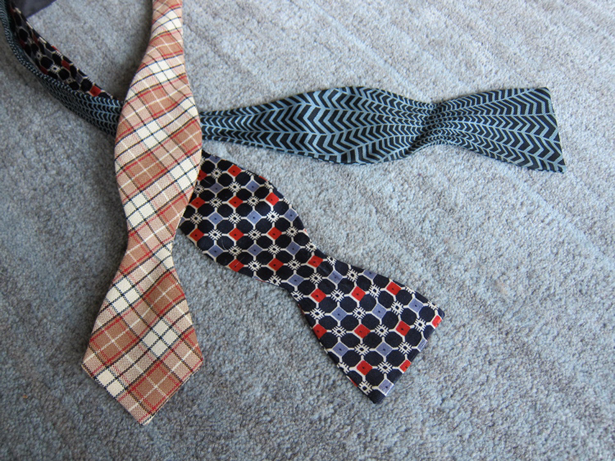 I am the proud owner of many a vintage bow tie and I actually know how to tie one. But is there any doubt that these are relics of another era, a time when men also wore spats.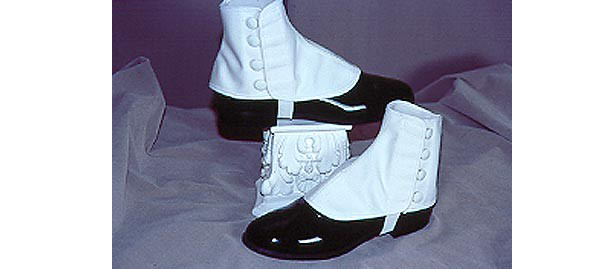 And straw hats (in summer of course)!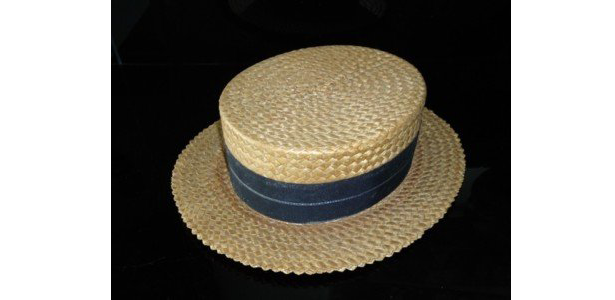 The last time I saw spats, a bow tie, and a straw hat on a man, I was watching Fred Astaire dance in some old MGM musical. They can be had still in a few old fashioned hat stores, believe it or not, at least here in NYC.
On their way out, at least outside the UK, where traditional men's fashion is still important (at least among some), are suspenders, or as they're also known, braces. Like sock garters, these no longer serve a purpose for men who don't aspire to dress like Edward VIII. Worn with jeans and Doc Martens they only look scary and let's face it: clip-on anything is always a little cheap looking.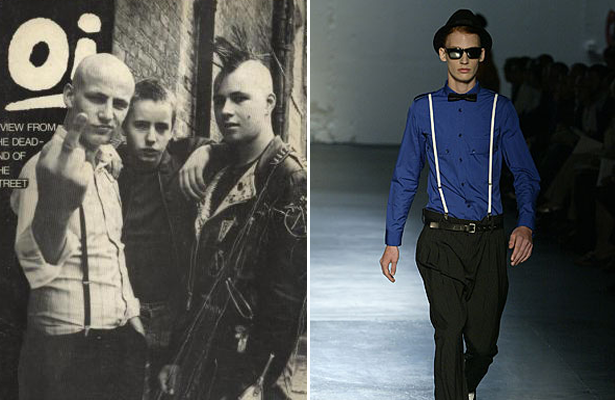 Finally, friends, we have the most controversial choice of all…
I predict that in a generation or two, no one will recognize a jockstrap.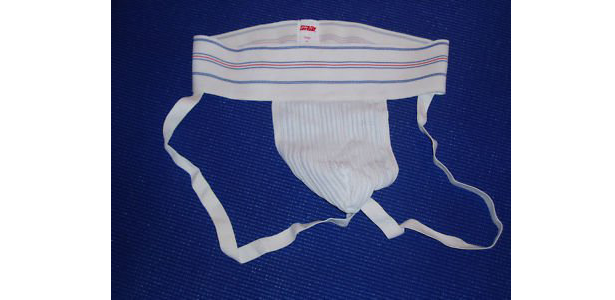 This embarrassing knit accessory has long outlived its usefulness, as today we men have a plethora of sports garments made of miracle space-age fabrics which will more effectively support, caress, and protect our cherished male parts. I have never seen a jockstrap on a man in the gym under 60. Guys who play basketball or run generally wear things like these briefs. Or they should.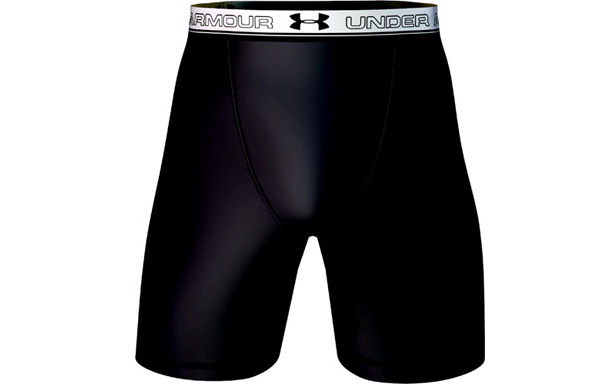 Jockstraps will no doubt always have their place, just as lace garter belts, french maid uniforms, and serving-wench bodices continue to have theirs. But these are costumes, my friends. If you, male reader, are unable or unwilling to part with your jockstrap, please don't shoot the messenger.
It seems we're out of time and I haven't even covered tie clips or toupees. Oh, well!
What do you think, readers: am I right or wrong about these endangered garments? Is there anything you think should be on this list but wasn't included? Acid-wash jeans, perhaps?
Jump in — well-supported, of course!
~Peter
When native New Yorker Peter Lappin bought his first sewing machine two years ago to hem a pair of thrift store jeans, little did he know he was initiating a journey that would bring him fame and fortune. While awaiting his fortune he stays busy writing "the world's most popular men's sewing blog," Male Pattern Boldness, and now contributing to BurdaStyle.
"For more than twenty years I'd lived on the edge of the Garment District without even knowing what a seam ripper was. Now I rip daily!"