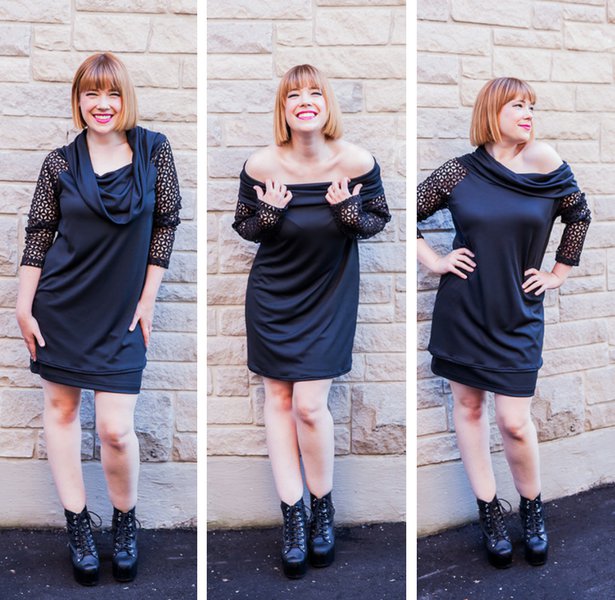 ShareThis
I love versatile wardrobe pieces! They are fun to make because you know you'll get a ton of wear out of them and it's like you are taking the time to sew one piece when you really kind of get three. Read on to see which pattern I used…

These patterns are both from the 08/2017 issue, and they share the same pattern PDF. Often similar styles with variations do, that's what I love BurdaStyle patterns because you really get more than one pattern with a purchase! So I saw these styles and how they were worn differently by the models and knew instantly I needed one. I loved the black fabric styling of the Off the Shoulder Shirt and the one shoulder look from the Pink Pullover pattern, but I ultimately followed more of the style lines for the black one since I wanted to convert the hemline into a dress.
I cut the sleeves in a neoprene laser-cut fabric, and then body in a black jersey. I lengthened the pattern only about 2" since the tunic style was already pretty long, and I'm petite so it worked out great! The black jerysey was also a little thin, and I had leftover fabric so I sewed a matching little under skirt for an additional layered hem look at the bottom and for extra coverage. I really love how it turned out. To make the skirt I didn't use a pattern I cut a rectangle of fabric my hip circumference and how long I wanted it and then to taper in the waist I stretch sewed elastic to bring it in.
See below the three ways I can wear this dress…

I like the cowl neckline because it shortens up the dress a little bit to expose the under skirt for that more layered-look. Also being able to wear bra straps is a bonus!



One shoulder is always nice and creates visual interest, and I always feel like a one shoulder style is casually chic and I love it!



It seems like 2017 was really the year of off the shoulder! It is a trendy-yet-elegant style and the jersey fabric makes it comfortable and secure to wear.


Which way do you like this dress the most? Have you ever made a three or two-in-one garment?
Happy Sewing!
Meg